---
---
---
10:35am (November 6th)– The American people have elected Joe Biden as the 46 President of the United States.
---
12:55pm– The main news today so far is that Biden has expanded his lead in NV to 11,787 (from 8,000(ish). Hard to see Trump's path here.
Also Perdue in Georgia has droppped below 50%. That means that we will likely have 2 special elections in GA in January. If the Ds pull them both out (longshot), they should could take control of the Senate.
---
10:47am– Hi friends! I won't be blogging much today, because I need to at least pretend to get some non-election work done. But I may drop in a bit throughout the day.
Here's the deal: I expect a call for the overall race at some point today. We should first be getting more GA votes starting a little after 12pm EST. PA should come rolling throughout the day, and Biden will eventually pass Trump. When that happens, the race may be called. AZ and NV are still outstanding, but depending on the time of counts in the other states, it may be moot
---
9:20pm– I'm going to call it a night. Three days of this is quite exhausting. With the latest numbers for AZ, it's clearly going to tighten a lot. But I'd guess that it's not quite enough to close the gap. Either way, I doubt an official call for AZ is made. That means an end to this campaign won't happen until tomorrow.
I might be wrong, so keep scrolling random sites on your phone tonight just in case you need the news immediately.
Sleep tight friends.
---
9:14pm– After the Maricopa County dump of votes but Biden is still leading by 5% in the county, and by roughly 3% in the state. Most remaining votes are in blue areas, and they're all early votes, which have trended predominantly for Biden. But we'll see.
---
9:11pm– Maricopa results came in from AZ. Trump gained some ground. The Biden margin in AZ fell from 90K to 80K overall ( according to Steve Kornacki).
---
8:58pm– In GA, with Biden down by less than 1%, there are 122k votes outstanding. Biden needs to win 66.3% of them. It's very possible.
---
9:46pm– PA continues it's march toward Biden: Trump up by just three points (195K votes) now with 88% reporting. There are still a lot of votes to count in the Dem strongholds around Philly.
---
8:45pm– GA number cruncher looks at what's remaining and predicts that Biden will eek out a win by 6,000+ votes:
---
8:34pm– This is a projection from an election expert (not an official source), but: U.S. Sen. David Perdue (R-GA) will fall short of 50% of the vote. Perdue advances to face Jon Ossoff (D) in a January runoff, which will be on the same ballot as the Georgia's other U.S. Senate runoff.
---
8:11pm– Nate Silver makes some guesses on final popular vote margin. Remember, Hillary won by 2.1%:
My absurdly precise forecast of the final popular vote margin is Biden +4.3%, with 81.8m votes for Biden and 74.9m for Trump on turnout of 159.6m. That's using Edison's estimate of the outstanding vote in each state and my best guesses for how it will be distributed.
---
8:01pm– Trump leads in Georgia by 0.91% Trump~ 49.84% Biden~ 48.93% Trump leads by 44,268 Still thousands of ballots to report in Democratic Friendly areas.
---
8:00pm– From Kyle Kondik: Plugged in Democratic source on the ground in Arizona says state will tighten when Maricopa County votes come in. Biden up by 92,000 votes now, source estimates Biden will win by 40,000 votes.
---
7:41pm– Speaking of GA: Perdue's margin continues to drop and I'd say it's more likely than not that he drops below 50% triggering a run off election. Also, Trump campaign just filed a lawsuit in GA. From what I can gather, like all the others he's filed today, the claims are baseless…just grasping as straws to invalidate results he doesn't like without any legal basis.
---
7:34pm– Biden's number in MI keeps increasing. From Wasserman:
Biden gains 33k of margin in Michigan from newly counted mail ballots in Kent Co. Statewide lead up to 104k (1.9%). Michigan won't end up especially close.
---
7:33pm– Another positive for Rs from Dave Wasserman:
Republicans defied the polls in the House and may be on track to pick up 7-12 seats. A few takeaways: 1) Dems suffered a catastrophic loss of Hispanic support that cost key seats 2) "Suburban revolt" never really progressed from '18 3) GOP likely to double its ranks of women
---
7:16pm– From Molly Reynolds: If we end up with a president and House majority of one party, and a Senate majority of the other, in 2021, that would be a really unusual configuration of power. It's only happened once since WWII, in 2001 and 2002–and that only happened after the Jim Jeffords switched parties, dropping the Republicans to become and Independent.
---
7:12pm– Some GA results continue to trickle in, though Gwinnet Co. already called it a night so not sure if we'll get any more…
Trump leads in Georgia by 0.94%.
Trump~ 49.86% Biden~ 48.92% Trump leads by 45,437
It was a 98k lead to start the day. Trump margin has been going down in the last hour.
---
6:53pm– Timing in AZ tonight. Sometimes the East Coast time zone can make things quite challenging for those of us who need our sleep:
There will be two ballot drops from Maricopa County tonight. The first will be at 7pm, and it's unknown when the second will be. Second shift at the elections department works until 10:30pm. Unknown if they'll wait until after that to announce the second drop.
---
6:51pm– Biden having a hometown connection to PA on top of old-fashioned union credentials is going to pay off in a big way this year:. From Alec White: Montour county, PA is blue collar and rural and 98% in. Trump +30 in 2016. Now, it's Trump +21. These shifts matter and it's why Biden is on track to win PA.
---
6:40pm– An under-discussed fact is that beating an incumbent President is quite hard. It hasn't happened in 28 years. Both Kerry and Romney were very confident that they could do it recently, but both fell short. And it's only happened 4 times in the last 100 years.
---
6:36pm– From Michael Cohen (not the ex Trump lawyer): Based on my back of the envelope calculations if Ossoff wins 62% of the remaining 185,000 votes in Georgia, Perdue would have 49.9 of the vote and you know what that means … RUNOFF X2
---
6:31pm– Besides Trump v. Biden, the GA numbers are important to see if Perdue (R) drops below 50% of the vote, triggering a runoff election in January. His margin has been decreasing with each mail in ballot dump, but hard to tell if it'll be enough.
---
6:28pm– Those most familiar with the details of the remaining votes suggest that Biden win in PA will likely pass that of his leads in WI and MI. While we're all looking at NV, AZ, and GA, if Biden wins PA none of those states matter. Hard to see any path for Trump now.
---
6:22pm– Current tally in PA. I think to start the day it was around 600k for Trump
Trump: 3,143,021
Biden: 2,866,042
That is a 276,979 lead — much smaller than earlier in the day.
---
6:19pm– Nevada really needs to get it together…
Washoe County Registrar Deanna Spikula says Washoe County will NOT be posting any new results today. The next result update won't happen until tomorrow morning.
---
6:01pm– Interesting thoughts on networks calls of AZ. Fox and AP were always going to be slight outliers, because they don't use Edison Research data that is the basis of most other networks predictions.
Remember if AZ ad NV are called tonight, then we'll likely have official calls for entire race (because Biden will be at 270 even without GA and PA).
---
5:50pm– I suspect PA officials will stop soon and continue tomorrow. Trump's lead in PA was basically cut in half today, and if Biden's lead margin in mail in ballots continues, he's still projected to pass Trump by the time all votes are counted.
---
5:48pm– We may not know GA until tomorrow: Gwinnett County election officials have wrapped up for the day. Officials will start counting the absentee ballots that caused the glitch tomorrow at 9a.
But, AZ and NV both plan to release more tonight, which, depending on how they shake out, may allow calls in those states. If they are called by networks, then we could have an official call for Joe Biden as nest President of the United States tonight.
---
5:35pm– From Jonathan Tamari:
Where PA stands: – Trump's edge is down to about 300k. – About 900k mail ballots uncounted yet. – Biden still winning 78% of those. – If – again IF – that % holds, Biden would surpass Trump's advantage.
---
5:30pm– Trump leads in Georgia by 1.22%
Trump~ 50.00% Biden~ 48.78% Trump leads by 58,554. Trump margin has been going down.But we don't know if Biden can catch…gonna be close.
---
5:28pm– Some context in Michigan from NYT:
Biden's narrow win in Michigan was the product of extremely high turnout in Detroit, where an underwhelming performance with Black voters in 2016 helped doom Hillary Clinton.
---
5:20pm– He said "hereby" so its now legally binding. Just kidding. This is simply ridiculous coming from a President of the United States.
---
4:54pm– Good news. Fingers crossed: Instead of delaying releasing results until tomorrow, Nevada officials will release more results later today due to the high interest in how Nevada voted.
---
4:35pm– Biden just spoke again:
"After a long night of counting, it's clear that we're winning in enough states to reach 270 electoral votes needed to win the presidency. I'm not here to declare we've won but I am here to report when the count is finished we believe we will be the winners."
---
4:31pm– Trump is up by 71k votes in GA. But it's still a tight one as the final mail in ballots ars added, because here's the map of outstanding votes…a lot of blue:
---
4:27pm– The Biden camp is very confident that they will win PA, just like MI and WI. From John Bresnahan: Pennsylvania Democratic officials are privately telling Biden campaign officials that they believe final margin of victory for Biden in Pennsylvania will be 100K-200K votes when the counting is finally done.
---
4:23pm– CNN officially calls Michigan for Joe Biden. That basically means that he needs an official call in NV and AZ (or GA) and he'll have secured the win. Winning PA is his back up in case he loses two of those three. Inch by inch we are getting there.
---
4:22pm– I'm assuming they are saying this with an asterisk (*not counting the COVID complications). Many will speculate, but I'd suggest this is where Trump's overall style and behavior have lead enough voters to turn on him (even though they consider themselves better off).
---
4:13pm– More Michigan votes have trickled in. Biden is currently up 64,000 votes (1.2% lead). That significantly larger than Trump's 11,000 vote win in 2016. David Wasserman says: It does look to me like Biden may end up with a 100k+ vote margin in Michigan once all of Kent/Wayne is reported.
---
3:37pm– We're still waiting on GA numbers. The NYT Needle remains bullish for Biden, giving him a 64% chance. Here's the Needles creator, Nate Cohn:
We still don't have any updates in Georgia, where Trump leads but the needle thought Biden was slightly favored. The story there's the same: a lot of very favorable vote for Biden in the Atlanta area, and an overlooked block in Savannah as well. It'll be close.
The needle accounts for this, and expects… Chatham: 75-26 Fulton: 85-16 DeKalb: 93-7 Among remaining mail absentees
---
3:33pm– Nothing more until tomorrow? Update on Nevada from 538:
In Nevada, Biden leads by 7,647 votes. An estimated 14% of the vote (all late-arriving mail ballots or provisional ballots, which should lean Democratic) is still uncounted. *We won't know more on this state until 12 p.m. Eastern Thursday.
---
3:15pm– From Jonathan Lai: Here's how the partisan divide on voting method looks right now, out of Pennsylvania's 5.5M or so votes counted and released so far:
Mail ballots: 78% Biden 21% Trump
In-person votes: 33% Biden 66% Trump
This was replicated throughout the country, and with a surge in mail ballots, it created a bizarre election night reveal, as results were completely lopsided and then shifted dramatically the other way. It made it incredibly difficult to forecast, because there was rarely clarity on what type of votes were counted. With margins like that, if you didn't know the types of ballots, you didn't know anything.
---
3:10pm– Some thoughts from Nathaniel Rak on the state of things in NC. This is unlikely to play a decisive role, but there is still a Hail Mary chance that Biden eeks out a win (unlikely) and Cunningham wins (even more unlikely)…
2:42pm– You may have already seen that the Trump campaign has already filed a suit in MI seeking to stop the finally counting. Their claim is that Trump officials were not allowed access at certain ballot sites per MI law. However, there are many officials in the identified areas who have already come out to say that the locations were "crawling with Republican challengers." In other words, this is just the first of what will likely be many frivolous lawsuits.
Remember it takes zero evidence to file a lawsuit. Anyone can do it on anything. Don't read too much into this stuff as it comes out. There needs to be a credible claim of actual legal wrongdoing.
---
2:32pm– One more update from Cohn on AZ:
2:33pm– Nate Cohn on outstanding ballots in AZ: There is reason to think these ballots could be good for Republicans…
---
2:30pm– This is going to require a lot of soul searching for Democrats in the coming months: Trump is on track to get the largest share of non-white voter support for a Republican presidential candidate since 1960.
---
2:26pm– The AP officially called WI for Biden. We've known this, but networks calling are just another layer of traditional confirmation. Eventually, either the AP or Fox (the two that are making earliest calls) may have an official call on the overall election.
---
3:25pm– David Wasserman on Pennsylvania: To my eye, Biden is likely hitting the targets he needs in PA counties to be on track to finish ahead. And recounts don't typically overturn the margins we're likely to see for him in MI/WI.
The rough calculations are back-of-the-napkin affairs. You look at which counties have outstanding ballots and look to see what margin Biden is winning mail in ballots in that area or nearby (nationwide Biden's been winning mail in ballots anywhere from 4:1 to 7:1). You can then do math to see what margin Biden is likely to gain when all of those votes are in…compare that to Trump's current lead, and see if it's bigger.
---
2:20pm– In other initiative news:
The CA measure to allow Uber/Lyft drivers to be categorized as independent contractors passed.
The attempt in IL to move to a progressive taxation system (like nearly everywhere else) failed.
The abortion ban in Louisiana passed–expect abortion to be a hot agenda item with the newly reconfigured Supreme Court.
---
2:13pm– In case you were wondering, literally all of the drug decriminalization measures passed nationwide: marijuana legalization, Oregon's universal decriminalize, and both Psilocybin measures. Now more than 1/3 of the country lives in a place where pot is legal. The tides continue to shift on these issues.
It's a small reminder that for as much vitriol as is thrown on social media, Trump and Biden voters agree on more than they realize. We are very divided, but I believe much of that division is manufactured and exploited. There are ways out of this polarization, maybe, perhaps. But I'm an optimist.
---
2:06pm– It's a fools game to respond to wildly inaccurate Trump tweets. But this is galling.
Yes, Mr President, mail in ballots are counted until they've all been tallied. That's how it has always worked. State officials wanted to change the rules to those in many other places (like FL) were they could get these counted earlier so there would be a final count on election day. But the R legislature blocked that. The reason we are waiting this long is because Republicans ensured it would happen. This isn't a partisan comment. It's simply fact.
---
1:51pm– Gary Peters, D, has moved ahead in the MI Senate race. Hard to see this backsliding, and so it looks like the Ds were spared a surprise loss in this one and will at least close the maring in the Senate.
---
1:49pm– The Ds only chance right now to control the Senate is for (1) Gary Peters to hang on in razor tight race in Michigan, AND (2) win two of the three outstanding races (underdogs in each): Cunningham, Ossoff, Warnock.
I don't see it happening, but its not technically impossible.
---
1:35pm– Susan Collins has retained her Senate seat in Maine. This was a surprise win for her, and the polls in that race were off by enormous margins– 10-16% in many cases. For those reading who were leery about Ds having total control of government, this win nearly ensures that Rs will retain control of the Senate.
---
1:02pm– Remember we should be getting GA votes in soonish. Right now, the NYT Needle gives Biden a 64% chance of winning it. That seems high to me, but it is a sophisticated model. I'd say 50/50 shot just be pessimistic (and considering that the year is 2020).
---
12:57pm– A friend (H/T Dave M) pieced together that AZ has about 350k outstanding ballots. The largest chunk of those are in fact in counties that Biden won (mostly Maricopa, the Phoenix area that dominates the state). We don't yet know the exact Election Day breakdown of voters in those areas, but at least right now I can't see Trump with a ultra clear path to make up the 93k deficit he has overall in AZ. He'd have to win these remain votes by a clear margin. I'm not 100% confident until I know exactly what type of ballots were talking about, but hard to see a great path for Trump.
AP and Fox have both called Arizona for Biden and they have not retracted that call. It's not over, but Trump only path to victory first requires winning AZ and it's still not likely.
---
12:48pm– The AZ race will hinge on types of outstanding votes there are. Throughout the state, Trump beat Biden 65%-34% with election day votes. But, unclear if that election day number is the same for just Maricopa (where most outstanding ballots remain).
---
12:47pm– This is what's called election humor:
---
12:38pm– PA Math update. Biden is currently down 484k votes. There are about 1.16 million mail in ballots left to tally. To win, Biden need to win those ballots by 71-29%. In the latest batch of mail-ins, Biden won by 86-14%. No guarantee that margin stay the same, but if its roughly the consistent, Biden is still on track to make up the ground he needs in PA.
Can't feel comfortable until is in, but there is a path.
---
12:19pm– The situation in AZ from 538: While Fox News and the Associated Press have projected Arizona for Biden, the other outlets — including ABC News — have not. Before the election, officials did warn that any super-close races might not be resolved until the last votes are counted on Thursday or Friday. Biden has a 3-point lead over Trump, with 86 percent of the expected vote reported. Maricopa County, where the largest remainder of uncounted ballots are, has finished tabulating all its in-person Election Day votes and will release more results at 9 p.m. tonight.
Yes, you read that right…9pm tonight. The year 2020 is just an utter nightmare.
---
12:07pm– Oh boy, so it looks like AZ might be razor thin now. The screwed up reporting mean Trump is closing. If Trump does win AZ, then he still has a slight path if he also wins GA and PA.
Inhale, Exhale.
---
12:04am– Slight twist (it's 2020, nothing is easy), but that to (H/T from Kaylle G): Arizona reportedly counted 95%+ of its votes. But "due to an error in an Edison Research data feed of results … the actual estimate is that 86% of the vote has been counted.
Need to keep an eye on that.
---
11:56am– WI is done and Biden won by 21k votes. MI still has 100k left to process, and Biden is currently up there by 31k votes. If iBden locks up MI (and Nevada holds), he wins the election. That's regardless of what happens in PA or GA.
---
11:54am– NV's Jon Ralston notes that there are about 50-60K outstanding mail in ballots in Clark Co, I think. Those will be heavily D, and so Biden should be safe in Nevada, though nothing is certain until they're counted.
---
11:49am– Michigan Secretary Benson said the state is waiting on 100,000 ballots statewide to have an unofficial count. Most of these ballots are absentees. from Detroit, Flint, Grand Rapids, Kalamazoo.
Biden is generally strong with absentee ballots.
---
11:45am– Georgia's Secretary of State says just said in Atlanta that 200k Election Day votes and 40-50k early votes still need to be counted. Trump is currently winning GA by 100,000 votes. Gonna be tight.
---
11:40am– This article provides a good explanation for why the "missing ballots" issue is not as bad as it may seem.
---
11:31am– Wisconsin Elections Commission Administrator Meagan Wolfe tells NBC News that all of the ballots have "indeed been counted." Biden is currently leading WI by about 21,000 votes or 0.6% That should give Biden Wisconsin, although it will likely be contested for a recount.
In 2016, Trump beat Clinton by 22,000 votes in WI. There was also a recount, and that recount ended with Trump gaining 131 votes. Hard to see any way that Trump swings 21,000 votes in WI.
---
11:06am– There's no doubt that there's an industry-wide issue with polling. From Derek Thompson: Too early to be sure about the *exact* numbers here, but seems like state polls missed by 5 points, on avg, in 2016 by understating noncollege support for the GOP. Then a bunch of pollsters studied the issue and changed their methodologies for 2020 … and whiffed by 7 points.
---
10:58am– Important: the issue of ballots at USPS facilities may be more complicated (and less dire) than I just shared below. USPS officials believe that there are some misunderstanding in the numbers, and it's not as bad as it first appears. That's a relief, and I hope it's resolved in the coming days. But again, thank goodness this election will likely not hinge on those votes.
---
10:54am– We won't know for a week (until CA slowly counts all its ballots), but my guess is that Biden will end up winning the popular vote by about the same amount (maybe a hair more) than Obama did in 2012 (and certainly much more than Clinton in 2016.
---
10:50am– This can't be repeated enough as the President (expectedly) begins going off on Twitter:
10:47am– If you remember, yesterday morning a federal judge ordered the USPS to sweep all their site and immediately process the 300,000 ballot that were there. That order was apparently ignored by the USPS.
---
10:45am– More news coming out about USPS mail delays. For example about 15% of South Florida mail in ballots simply never arrived on time. In Florida, if the ballto doesn't arrive on time, it's not counted, no exceptions. The horrific Biden numbers in South FL are likely in part caused by the fact that a chunk of his voters will not have their ballot counted. He still would have lost FL, but it likely wasn't as bad a the current number shows.
The same issue may have occurred in other places nationwide.
All I can say is thank God Biden will likely win without them, because if this ended up being the reason for a loss, there would be huge issues.
---
10:05am– WINCHESTER Update. Boy, are these results kinda odd to me. What a night. The vast majority of D votes (like elsewhere in the country) were in early/absentee, and NONE of the votes were counted until the wee hours. This left most of us sitting in fear as we saw Rs winning every single race by comfortable margins. But when the dust settled, it was an overall positive night for the local Democrats.
Mayor David Smith was re-elected by 5.5%. John Hill was re-elected by 11%. And the Ds won 1 of their 3 opportunities to flip a seat as Phil Milstead beat John Willingham by about 3%. I was sad to see Richard Bell not able to pull it out here in Ward 1. I 'll repeat that I think his campaigned as well as was possible, and was as strong a D candidate as could be imagined here. It turned out that Veach had more more core support than I knew and combined with a national environment that wasn't as bad for Rs as predicted, there was no path. However, with Bill Wiley's election to the statehouse, that means there will now be an open Ward 1 seat. Hmmm. Will Ward 1 get a D replacement?
In other Winchester news: Biden beat Trump in Winchester City by 11%; Wexton was re-elected by 11% in Winchester, and Warner won here by 15%. I think that jives with the city remaining about 8-12% D overall. Though, obviously that doesn't work for local elections–as my missed called in Ward 4 indicates. That's an weird one, because it's the Ward that votes most R in state and federal elections, and yet it will now have 2 D city council members.
---
9:57am– One additional thing to watch as MI results come in. There will be a razor thin Senate race there as well. I expect D Gary Peters to neak by if Biden does. But his opponent is running a hair ahead of Trump. Rs could pick up that seat if MI remains extra close.
---
9:54am– If you are still watching Presidential numbers, it's simple: Follow the margins in WI, MI, PA, and GA and see how it changes over the day. You can keep an eye on AZ and NV too, just in case.
---
9:51am– Barring some shock developments in Maine and GA, Republicans will keep control of Senate, though Ds will gain at least 1 seat. Rs also overperformed in House races. Ds will retain control, but Rs may have a few more seats (it may be a wash once all the votes are counted though).
---
9:43am– Those are the states in play. It's safe(ish) to assume AZ will go Biden, NV, will go Biden, and NC will go Trump. So there are really only 4 states left. Biden only needs 2 of them, and he's already leading in two of them (WI, MI). More than likely, he won't even need PA or GA
---
9:35am– The details aren't too complicated anymore. There are 7 states that haven't been called by some or all outlets:
Arizona: Biden will win this, though a few are still waiting for final, final tally.
North Carolina: Trump's lead should hold, but there is a 1 in 50 chance, that the final absentee ballots swing so hard to Biden that he eeeks out a win.
Nevada: Trump made this far closer than suspected, but it looks like he'll fall short by less than a point. The little outstanding votes (mail in from Clark Co.) remaining should bump Biden's lead up a hair.
Wisconsin: Biden took the lead early this morning as the mail votes were slowly counted. That lead will likely grow, and it's hard to see how Trump flips this as the vast majority of outstanding ballots are areas where Biden is strongest.
Michigan: Almost exact copy of Wisconsin. Biden took the lead early a half hour ago as the mail votes were slowly counted. That lead will likely grow, and it's hard to see how Trump flips this as the vast majority of outstanding ballots are areas where Biden is strongest.
Pennsylvania: I expect it to follow the route of WI and MI. It will count slowe rthan those, over today and tomorrow. But, the outstanding votes are Biden's best vote areas and type of voters. The quantity outstanding should be enough for him to pull ahead.
Georgia: This may end up being the closest race of the cycle (expect perhaps Nevada). Atlanta and other big Biden votes will drop later today, and it's a toss up as to whether it'll be enough for Biden to make up the gap.
---
9:28am– If you haven't followed the news, the state of the race is as follows: Joe Biden is a clear favorite to be elected the next President of the United States. He currently leads in enough states to earn 270 electoral college votes. Virtually all outstanding ballots seem to be highly favorable to him, and so his margin will likely grow over the coming hours and days.
If you were desperately hoping that Donald Trump not be President for another 4 years, you should be feeling very good right now.
---
9:25am– Good morning, friends. It looks things have finally gotten interesting.
---
ELECTION DAY LIVE BLOG
---
12pm– It's officially Wednesday here on the East Coast. I'm going to call it a night, because I don't have that much more to add. I'll likely keep watching for awhile to see what we learn, but I don't know any more than anyone else at this point.
I'd rather be Biden than Trump right now. He has more paths, but this could go either way. If you are staying up tonight, keep an eye on Nevada, NE-2, and Arizona (to ensure the Fox call wasn't premature). PA won't tell us much yet. We may learn more from WI and MI, but I think that's a tomorrow thing as well.
Thank you all so much for following along and for the conversation throughout the day. As dark as things may seem, we've gotten through much darker times in American history. No matter who wins, we'll all still have one another. And I really like all of you fools.
Never forget. Politics impacts our lives but it isn't our lives. The core things that make our lives worth living will still be here. 🙂
---
11:44pm– On second glance, because Biden won AZ. If he wins the 1 ECV in Nebraska (and doesn't lose Nevada), then he could even lose PA and still win. He'd just need any two of the 3 between MI, WI, and Pa.
---
11:42pm– From John Kruzel: A Pennsylvania court has agreed to hold a hearing tomorrow on a GOP effort to invalidate mail ballots that initially contained errors but were later fixed (or "cured," in legal jargon).
Over the next few days Rs will do everything possible to prevent as many mail-in ballots from being counted.
---
11:38pm– By a sizeable margin Oregon has voted to decriminalize most drugs, and place an emphasis an addiction programs. All of the legalize medical and recreational marijuana initiatives look like they will pass.
---
11:38pm– Trump will in OH by about the same margin he did last time.
---
11:35pm-– Many are disputing the call for AZ, saying it's too early to know. I must say that this has been the oddset election ever in terms of understand what the hell is happening as the votes are rolling in. The enormous difference between early and same day votes + no one being sure which votes are counted means that everyone has been flying blind all night.
---
11:30pm— Assuming Fox didn't jump the gun, then the Arizona win allows Ds breathing room to perhaps lose WI or MI and still win the election. With the one caveat that they also must keep Nevada. AND there's still the outside chance that Ds pull off a late win in NC or GA.
---
11:28pm– The Arizona calls are the first real good news for Ds all night.
---
11:26pm– FOx news has made the earliest calls all night. Right now they just called Arizona for Biden. AND Mark Kelly for Senate (which would be 2nd pickup.
---
11:20pm– Honestly, it is OK to go to sleep now or at least not obsessively stare at results. I'm not sure how much longer I will live blog (probably until midnight, EST (40 more minutes). That's because PA, WI, MI, and GA have all announced they will not have final results tonight. I think we are nearing 2000 election territory where things may hinge on the slimmest of margins.
Breath In. Breathe Out. And if all of this is extremely stressful, overwhelming, and making you physically ill, I'm sorry. We remain a very divided country, but we've been divided before. We can get through anything.
---
11:12pm– From David Montgomery: One bellwether county in MN is Anoka County, which swung big to Trump in 2016, and then even harder to Democrats in 2018. So far, most of it's vote is apparently in, and Trump's lead there is MUCH smaller than four years ago.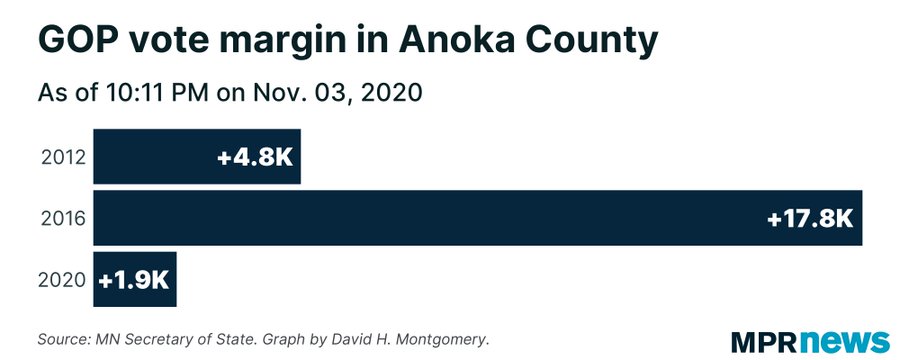 ---
11:08pm– Detroit will not finish counting a backlog of absentee ballots until tomorrow night.
---
11:06pm– As we stare at this map, here's a reasonable take from Conor Sen:
I would rather be Biden having to win WI/MI/AZ or PA/NE-02 rather than Trump needing to hold NC/GA/PA/AZ.
---
11:04pm– KS Senate will go to Rs. These were all expected, but Ds held out hope that they might sneak in one of these "extra R seats.
---
11:02pm– Breath in. Breathe out:
---
10:55pm– Perspective: This time in 2016, many, many more states were already called. We also weren't in the middle of a pandemic in which many, many votes won't be counted for days.
---
10:51pm– Remember, the only reason we don't have more results from WI, PA & MI right now is because Republican state legislatures refused to allow election officials to count mail ballots earlier like FL/NC/GA do
---
10:48pm– There will be a special election in January in Georgia: Loeffler vs Warnock. Depending on how things shake out, that election may end up being for control of the Senate. If that's the case, you have to think R Loeffler will be the favorite.
---
10:40pm– My additions may become a bit more scattered. This post is getting so long that the site is slowing down terribly and it takes awhile to type out a few sentences.
Anyway, it's becoming clear that we will need to wait until tomorrow (and perhaps longer) for a resolution. It could honestly go either way at this point, and it's going to hinge on final absentee ballots. If I had to pick I think the odds right now are Biden-52%, Trump-48%. Razor thin, and I'm basing that off little. But If Trump wins OH by say 4-5, I think that still means Biden has enough juice to beat Hillary's slim margins from 2016 in PA, MI, and Wi. But we won't know for a long while, because Biden's votes are locked up remaining mail/early votes that those states will take awhile to count.
---
10:31pm– Steve Bullock not getting the margins he need sear earlier to win in MT. I think he has an uphill climb, At this point, I can see Ds getting 3 seat, but the 4th one will be tougher. It looks like, unfortunately, some of these races at the Presidential and Senate level are going to be decided by the very last mail in and absentee votes that arrive. That means we are in for some court fights.
---
10:26pm– ALso need to keep an eye on Nevada. If the Latino vote is as bad for Biden here as elsewhere, then it will likely be closer than we thought, and Trump has a chance to take it.
---
10:24pm– Ernst is overperforming Trump a bit in IA right now. I expect she keeps her seat.
---
10:10pm– If this all is stressing you out, you have permission to go to bed. Because it doesn't look like we know tonight. PA is going to take awhile…
New: Philadelphia officials say they will not be reporting any more mail ballot results tonight. About 76,000 have been tallied so far — out of 350,000-some received. And remember, Biden supporters are disproportionately voting by mail.
---
10:08pm– Lindsey Graham is going to hang onto his seat in SC.
---
10:05pm– Those 117,000 outstanding absentee votes in North Carolina might become very, very important.
---
10:02pm– If Biden wins OH he wins the election. But we don't know which typesof votes are outstanding in these Clinton areas.
64% of Ohio has reported, but of the places yet to report, about 63% of the vote is from counties Clinton carried in 2016.
---
9:52pm– The NYT Needle was very optimistic for Rs in NC and GA once Trump won FL. But now the creator it says GA and NC will be closer, because the model extrapolated too much data from that FL win. For the record. The Fox News Needles are much more optimistic for Biden. We will see….
Cohn is now saying that the NYT needles are extrapolating too much from Florida so it's not clear how much we know about Georgia and North Carolina. The Fox needles tell a very different story, with both heading Dem (95% in NC & 78% in GA):
---
9:44pm– From WI:
Early look at individual Waukesha precinct numbers shows Trump doing 4-6% worse than four years ago. "crucial waukesha county"
---
9:41pm– I don't know how I missed this, but Fox News has their own needles, per state. And their results are much more optimistic for Biden still at this point.
---
9:34pm– Fox News projects that Ds will retain control of house and expand lead by at least 5 seats.
---
9:24pm– A positive thought for anxious Ds right now. OH is the state that is most like the critical 3 of2PA, WI, and Mi. Right now, Biden seems to be doing decent there, though I think he'll still lose. But Trump won OH by 8.1% in 2016. If that margin is much closer this year, then it's not great for his chances of keeping PA, WI, and MI.

WI: Trump 47.2%, Clinton 46.4%
MI: Trump 47.5%, Clinton 47.3%
PA: Trump 48.2%, Clinton 47.5%
Going even in OH isn't a good sign for Trump.
---
9:14pm– I'm not sure what will happen in WInchester as we wait for the mail in/early vote. But do consider that the vote as posted has Wexton and Biden down by 23%. I'd be shocked if either lost Winchester City, and so I think we can expect a swing at least in that range in many races. Though, I think Richard Bell may have a tough hurdle to climb as he needs to make up 34%, which is probably too much at this point.
---
9:08pm– First D Senate pick up of the night. Hickenlooper beats Cory Gardner
---
9:07pm– From Neil King – Latino support for Biden appears very soft in many states. One big emerging story.
---
9:03pm– Lots of states called. But from my vantage point, this race is now going to narrow to PA, MI, WI. My gut says Trump will eek out wins in NC and OH. That then leaves AZ as a potential savior for Biden if he loses a state like WI or WI.
We may have reached the point where whoever wins PA will win the election.
---
9:02pm– If you're starting to feel anxious. It's OK. This is stressful as all get out. But, take three deep breaths and remember: Politics is not your life. Politics is not your life. Politics is not your life.

No matter what happens, we will all be OK. For real. This isn't a mercy post saying that the race is over. It's gonna be close.
---
8:50pm– However, the lack of ticket splitting means that Cunningham's lead is not as secure, because that margin will shrink as more election day votes come in for Trump (and presumably Tillis).
---
8:44pm-– Not much ticket splitting in North Carolina. Cunningham's running almost even with Biden everywhere.
---
8:42pm– In Winchester, it now all hinges on whether most of the Ds can make up the 18% gain that Rs seem to have in most races with election day voting. We just wait for mail in and early vote totals. I honestly have no idea what to expect, because we're in uncharted waters here.
---
8:39pm– I don't think Biden will have the margins to win in TX. Overall, this clearly won't be an unprecedented landslide. instead it's going to be a fight where we thought it would be over the last 4 years. Upper Midwest.
---
8:36pm– It's actually becoming harder than I expected in trying to figure out where things are at the moment. And it's because of the huge divergence between early v. in person for Biden and Trump.
---
8:32pm– I now think this election may come down to just as we thought it would: PA, WI, MI. AND the potential in AZ.
---
8:30pm– Scratch that, NTY Needle just swung a bit to Trump in NC. Though I think it's still a bit of a tossup.
---
8:26pm– NC is gonna be close, but unlike FL, Biden has a better chance of having his early vote hold up til the end. NYT Needle gives Biden 58% chance of winning it.
New Hanover County, North Carolina (Wilmington, and also one of @redistrict's 10 counties to watch nationwide). 80% of estimated vote in. Biden: 52.0% Trump: 46.7% 2016: Trump: 49.5% Clinton: 45.6%
New Hanover County, North Carolina (Wilmington, and also one of @redistrict's 10 counties to watch nationwide). 80% of estimated vote in. Biden: 52.0% Trump: 46.7% 2016: Trump: 49.5% Clinton: 45.6%
8:22pm– DecisionDesk is calling FL for Trump now. The networks won't do it for a bit, but hard to see any path for Biden there.
---
8:18pm– With nearly 700K ballots counted in Georgia, David Perdue's lead is doing 4 percentage points larger than Trump's, which isn't what the Ossoff campaign hoped to see.
---
8:15pm– If you are looking at early Winchester numbers (at least what I'm seeing online) don't panic too much, more R ballots are in.
---
8:12pm– Texas early results coming in. Early numbers show some movement that Biden wanted in some city suburban areas. Though we don't know if it will be enough. Trump should still win TX by 2-3%, Biden certainly doesn't need to win though.
---
8:06pm– AP currently has it 85 ECV for Biden; 55 for Trump. Those are all expected. Trump is overperforming in FL, which is the only swing state where we have any real data yer.
---
8pm– Biden win NH, MA, MD, DE, DC, RI, CT, IL; Trump wins OK, AL, MS, TN
---
7:59pm– South Carolina is called for Donald Trump
---
7:57pm– From Nate Silver: What we know so far: * Trump looks good in Florida. * Beyond that… not much, I'd say, since Trump's overperformance vs. polls/2016 in Florida looks mostly to be concentrated among Cubans, which may not tell us much about other states.
---
7:52pm– Not a surprise, but Mitch McConnell will beat Amy McGrath in KY.
---
7:49pm– NYT Needle currently gives Trump 95% chance to take FL, mostly because of Miami-Dade performance by Trump. GA is at 65% for Trump (though still very early), and NC is 65% for NC (though extremely early).
---
7:46pm– The exits in SC Senate imply a narrow Graham lead, though potentially within about 5% — that's what we're expecting. But warning on any tweet I mention an exit poll: it's an exit poll.
---
7:42pm– From @jpelzer:
@CBSNews exit poll shows shift among Ohio suburban women. Trump won OH suburban women in 2016; this year, they sided with Biden 53%/47% Usual caveat that it's just an exit poll, though it's a sign of the much-predicted Trump backlash in suburbia.
---
7:31pm– Trump is definitely a favorite to win FL, so it's not impossible for Biden to make comeback.
The story in Florida so far. – BIDEN badly underperforming in MIAMI-DADE. -But he's overperforming in Pinellas & Hillsborough (Tampa metro) – Biden needs to overperform in Broward (still reporting) + elsewhere to make it up.
---
7:27PM– AP calls KY for Trump. Expected, of course.
---
7:25pm– Second reminder: On Election night in 2018, the first hour and half were quite depressing. Thing evened out, then got good for Ds as the night wore on. Stay calm and carry on.
---
7:21pm– The NYT Election Needle currently gives Trump 81% chance to win FL.
Friends, don't panic. Remember, even in 2018, a year Ds would love to repeat, they lost every big race in FL. FLorida is weird. It's different than other states. Trump supporters should be happy about this, but it's not definitive at all.
---
7:18pm– The Miami Dade vote is bad news for Biden. He needed to win that by much more.
---
7:15pm–For the record, I have MSNBC on in the background (sometime on mute). It's because Steve Kornacki is the best at managing the Big Board. He is on top of it in explaining if a vote dump is early ballots that will favor Biden or if a margin is truly unique. CNN, with Steve King and Wolf Blitzer, I find to be less sophisticated. But watch whatever soothes you, you would miss much no matter what you have on.
---
7:12pm– In 2016 it took several hours for VA to be called for Clinton. So that immediate call is good news. It may indicate good results for a similar state, like NC.
---
7:09pm– My early gut from the FL numbers coming in is that Trump will do just as well in FL rural areas as he did in 2016. No real slippage. The race, I think will depend on if Biden can improve on Clinton numbers in cities.
---
7:07pm– Not so long ago Virginia was a swing state. It's amazing how quickly things change when it is now a state that is immediately called for the Ds at poll closing.
---
7:05pm– Mark Warner will be re-elected in Virginia. No surprise.
---
7:04pm-– IN goes to Trump. All other places too early to call. FOx News calls VA and VT for Biden.
---
7:02pm– Update from Marc Caputo on Florida:
If Biden wins FL tonight, it'd be unique; he'd be the 1st top-of-ticket candidate to carry a state when his party had a lower share of ballots cast than the opponent's party. As of about 6:30, GOP's vote share was 1.8 points higher than Dems' (R+1.8). It was R+0.6 in 16.
To win like this, Biden would need a good share of independents (as much as a 7 point margin) or more GOP voters for him than Dem voters for Trump. Or a combo of both. Both are possible. But we haven't seen a D win when Rs outvote Ds or an R win when Ds outvote Rs
---
7pm– Here we go. Polls closing.
---
6:53pm– BREAKING: reports out of a place contain numbers. some of the numbers are bigger than the other numbers. it's not clear what this means unless it is clear, but there will also be new different numbers soon. this has been The News (H/t @Kt_So_It_Goes)
---
6:40pm– A caveat. Keep in mind that early and mail-in vote may be dropped first, so that some counties may seem like huge Biden improvements from 2016 but in fact are mirages. I may accidentally miss this as well, because it's impossible for know for sure in each area. The best comparisons between counties are when 100% of that county is in.
---
6:38pm– Fact check: True. Things work differently across the pond:

10pm Exit poll UK: We can confidently predict a Tory win by exactly 71 seats
10pm Exit Poll US: 13% of Americans have seen a rainbow in the past nineteen days
---
6:34pm– Great improvement for Biden in Kentucky margins. He won't win the state, this is just a indicator of how the electorate looks in states that matter…
Biden carrying Fayette County, KY (Lexington) by almost 3:1, with estimates is a bit over half in. This would be better than what Andy Beshear got there (65%).
---
6:33pm– This will only matter if Harrison happens to make it a close Senate race with Graham —15,000 mail-in ballots from Dorchester County, South Carolina, can't be counted because the printed ink mailing codes were too thin to be read by scanners. It means Tuesday's results will be incomplete.
---
6:30pm– Remember all that matters in the first hour or two are comparisons to 2016.
18K votes from Jessamine County KY in (Lexington area). Trump carrying it 59%-38%, down from 66%-26% in 2016.
---
6:27pm– First comparison of the night and it's good for Biden:
Steuben county, IN is very white and rural. It is 51% in. 2016: Trump +43 Now: Trump +23 The margin may shift. But if it holds, it is a 20 point shift to Biden.
A lot depends, however, on how much is VBM, absentee, and election day. Though IN didn't start counting early so might not just be a dump (but still unclear).
---
6:21pm– Results are starting to trickle in in IN. Here we go. Some things will trickle in slowly now, then start a deluge. Don't panic at all until at least 9pm. Anything before that is premature.
---
6:14pm– Oh Miami – I just spoke with 28yr-old Miamian Alex Garcia. He said he woke up today thinking he was going to vote for Trump BUT he changed his mind at the voting booth. He ended up picking Biden to "go back to normal." "I just want my Instagram to be about me again, and how good I look"
---
6:13pm– From Nate Silver: Nothing I've seen or heard about the exit polls give me confidence that they've figured out how to balance the different types of votes that are coming in. Lots of weird, somewhat incongruous results based on what's been reported. I would ignore.
---
6:10pm– CNN Exist polls (ignore them):
Party affiliation- Democrat: 38%; Republican: 35%; Independent: 23%
---
6:08pm– CNN Exit polls (ignore them):
Gender – Female: 53%; Male: 47%
---
6:05pm– The polls in parts of IN and KY are now closed. Whew. Here we go.
---
6:01pm– A FL poll released yesterday had the model of R+2% in it's registration status. It looks to be what the final registration layoff will be. That poll had Biden winning Florida by 1%. So it'll be a tossup.
---
5:44pm– Biden camp internals show "strong" numbers in WI, MI, NC, GA, PA, AZ & NE-2. FL is true toss-up, senior adviser tells @NorahODonnell. Source says not seeing "red tide of low-propensity voters" for Trump. Dem says they are over-performing in WI, NC and GA.
We very well may see similarities to 2018 — great D performance everywhere except FL. Of course, Biden doesn't need FL to win, Trump does.
---
5:41pm–Laura Bassett@LEBassett – Hearing from a poll watcher that Ward 2 in Philadelphia is closing early because there are no more registered voters that haven't voted
---
5:38pm– If this is true (I'm still unsure), then these exits are more wrong than usual. It means that 61% of the exit poll data is from those who voted on election day, when in reality only about 32% or so will be voting on election day.
---
5:36pm– These are what the super tech saavy number crunchers looked like in the 1986 election.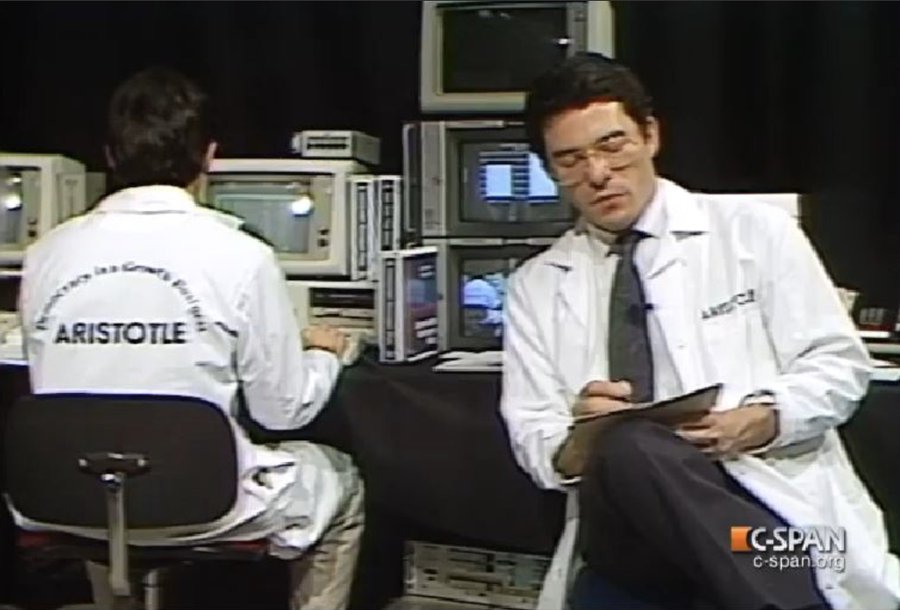 ---
5:32pm– Republican raw vote advantage now over 200k in Florida.
R: 4,199,104
D: 3,995,339
NPA: 2,544,855
This does not account for crossover votes or how NPAs are voting. ALSO, there is still oustanding data from a few cities.
---
5:31pm– In 2016, virtually all of the questions on the exit poll seemed to be favorable to a Clinton win…and we all know what actually happened.
---
5:26pm– CNN Exit Poll: First time voter? Yes: 13% No: 87% (in 2016 the projected first time voter total was 15%). But remember, this exit poll data is very unreliable and these numbers are changing on a rolling basis.
---
5:24pm– Not many late deciders. Only 4% of voters made up their minds in the last week, according to CNN exit polls. #Election2020
---
5:23pm– Whether you like or dislike these exit polls, remember that because of the pandemic and surge in early voting, these results are more unreliable than in the past — and they were unreliable in the past.
---
5:19pm– Molly Hensley-Clancy@mollyhc – Third party voting in 2020: I just spoke to a young woman in Minneapolis who said "the two-party system doesn't serve us" and that "they're two sides of the same coin." I asked if that meant she voted third party and she sighed and said, "Unfortunately, I voted for Joe Biden."
---
5:17pm: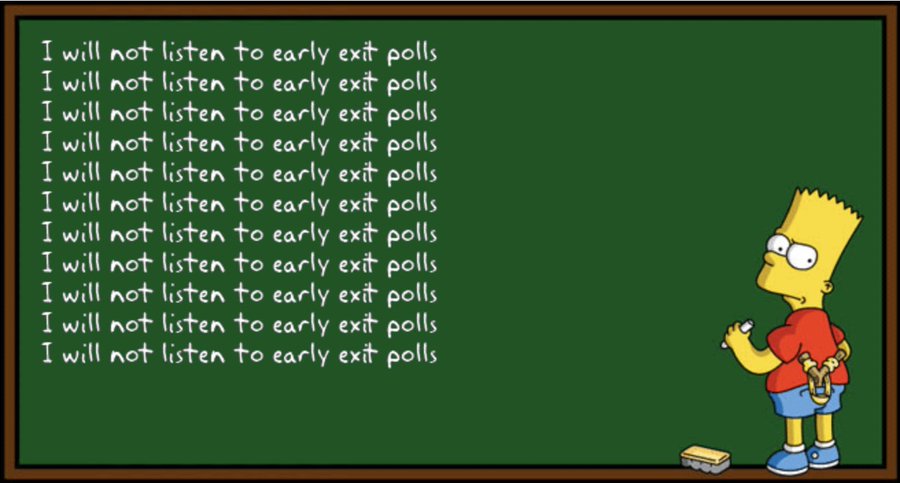 ---
5:16pm– CNN Exit Poll: Wearing A Face Mask In Public Is More Of A…
Public Responsibility 68%; Personal Choice 30%
---
5:15pm– FL voter "Temperment to be President":
41% – Trump; 53% – Biden
---
5:15pm– FL voter ideology:
20% – Liberal; 43% – Moderate; 38% – Conservative
---
5:12pm– 52%-42% voters think "Controlling coronavirus is more important than fixing economy." So there's a lot of diverging thing here.
---
5:12pm– Seeing "The Economy" at #1 is decent news for Trump, as that's usually his strongest issue. However, some context on the questioning…
Dan Pfeiffer@danpfeifferThe question in the Exit Polls about how efforts to contain COVID are going was poorly worded or at least worded differently from all the other polling. People have thought their local officials have done well, the Trump/Fed gov not so much.
---
5:09pm– Early exit polls. PS – these will change, as folks are still voting
Most important issue:
Economy: 34%
Racial Inequality: 21%
Coronavirus: 18%
Crime & safety: 11%
Healthcare: 11%
---
5:06pm– From a respected FL Insider:
Peter Schorsch@PeterSchorschFL· – This race feels extraordinarily close. (If you believe, as I do that Trump keeps 87% of GOP vote, while Biden keeps 91% of Dem vote — and — NPA breaks 52-47 for Biden, which I believe is conservative.)
I'm always skeptical of Ds chances in FL. But even if FL is closer than expected, please note that it doesn't mean things will be the same elsewhere. In 2018, when Ds performed very strong nationwide, FL was the one state that was a disappointment.
---
5:04pm– My Final Reminder: Ignore the exit polls. (It's impossible)
---
5:02pm– 2020, what a year…
---
4:59pm– Exit polls coming. Just a heads up, beyond all the raw votes everywhere, I'll also be checking two "live models" that attempt to take all data that comes in and show the odds of each candidate winning, changing on a rolling basis based on what we know. One is a version of the Economist's model (open sourced and adapted by a saavy person, Sajid Anwar) and the other is the NYT Upshot "Needle" (you may have heard of this one) that will live model the Presidential race in FL, GA, and NC only.
---
4:56pm– Be careful when you write-in vote sometimes, ha…
---
4:54pm– "I think we're going to have a great night. But it's politics, and elections, and you never know." Honestly, that's the most normal, sedate Trump comment I've yet heard on this election. All the talk about him doing outrageous things to contest the election…unless is razor thing…I don't think that's happening.
---
4:50pm– 840,000 Broward County ballots will go live at 7pm, per @Jacquiecharles at Broward Elections HQ. More ballots will come later, but that's more than the entire 2016 Election in FL's Dem stronghold.
This is why FL will initially be very strong for Biden, and then Trump will slowly close throughout the night. This is nerve-racking, but expected. Expect Trump to catch Biden there, and pass him at times. It doesn't mean it's over. Biden might not win it (and he doesn't have to) but we won't know until later.
---
4:49pm– I'm likely switching away from screenshots and images to just raw text, because it's so much faster and the real good stuff is going to start coming in droves soon.
---
4:44pm–
---
4:40pm– Good News. MI has gotten a jumpstart on processing early and mail-in ballots. "Michigan officials expect the state's vote will be counted sooner than previously expected, with both day-of and absentee ballot counts expected to be reported soon after polls close tonight"
---
4:37pm– NC will not released any results until at least 45 minutes later than scheduled after some precincts had voting problems and will have extended hours. Results are never announced for a state while polls are still open.
---
4:36pm– Some unwelcome news for Biden out of OH – "Turnout in Cuyahoga County is just under 63%, compared to 69.5% in 2016. That includes just 48% turnout in Cleveland, around 10 points behind. I'm hearing concern from Ohio Democrats that it's not high enough, especially if there ends up being increased turnout around the state."
---
4:34pm– Vermont Republican Governor just announced that he voted for Joe Biden. That makes him the first sitting R Governor to announce a vote for the Democrat. For the record, VT will likely be the first state called in this election, immediately for Biden.
---
4:14pm– We won't get the head to head exit poll numbers. But, they do have them. And networks use that data as one factor in deciding whether to officially "call" a race for one candidate or another. That's why some networks are able to instantly project a state for someone the minute the polls close…in part because they're looking at exit poll numbers that show how close the race actually is based on asking voters who they picked.
---
4:09pm– Reminder there are also many important ballot referendum tonight. For example, there is a chance that after tonight more than 1/3 of all Americans will live in a place where marijuana is legal.
---
4:05pm– We are 55 minutes away from the first exit poll data coming out. It will not be info. on Trump v. Biden votes. Instead it will be on questions asked about the voters (i.e. What issues most motivated you). We can infer which candidate is strongest on those issues and roughly gauge support for each candidate. That is if the exit polls are on point this year…which we won't know until after the election, so…
---
3:57pm– Context: It's close. These aren't votes just party registration, so some Rs will vote Biden and vice versa. We're still missing some turnout data from D areas.
---
3:51pm– From the same article below…
"There are actually parts of our brain that get activated around strong emotion, but those parts don't know how to discern between strong joyful emotions and strong terror emotions," she told me. "It might be thrilling and terrifying. So it may be that tonight, if there is this really obvious win for Biden, it may feel uncomfortable" — even, she says, for his supporters. "I suspect it will take a while to integrate and process and actually truly exhale."
---
3:49pm– Interesting Vox article. Is this any of you?
---
3:43pm– I do not condone incivility. It's not my personal style, and in the long run it doesn't make things better. But, I can confidently share with you that it's impossible to exaggerate how much Trump is utterly despised by most residents of D.C. and northern Virginia.
3:40pm– We may end up with the biggest gender gap in American history in this election. There was a 20% split in 2016, women favoring Clinton, men for Trump. This year polling suggests it may be as high as 30% as more women break for Biden and at least certain demographics of men (Black and Hispanic men) break for Trump and slightly higher margins that in 2016.
In the past, women have broken for Ds, but that's mostly because of huge margins among minority women. If polling is on, this will be the first election in 25 years where white women also support the Democratic nominee.
---
3:33pm– DeWine is a moderate Republican governor who has drawn the ire of his own party base this year for his aggressive action in trying to stem COVID-19 in his state. From NBC:
Ohio's GOP governor, Mike DeWine, predicted that the results of the presidential race in his state are likely to be known on Tuesday night. "The president is certainly not going to do as well as you would have expected a Republican president did 12 years ago or so," DeWine said Tuesday in an interview with MSNBC. DeWine said that the first votes that will be counted will be the mail-in ballots and the early in-person votes. On the timing of the results, DeWine said, "We're gonna know tonight unless it's a really, really close race."
---
3:28pm– Throughout the campaign Ds have worried about the Latino vote. They want to win more of it than they seem to be getting. There also appears to be a big gender gap in the demographic, with men much more likely to support Trump. This was always one argument made by Bernie Sanders supporters for his viability, because he did well among these voters in the primary.
---
3:24pm– 90% anywhere for an American election is an insane number.
---
3:20pm– You'll likely to see dozens of these sorts of claims pop up tonight and into the week after the election. Please note that they will almost universally be scams, hoaxes, and nonsense spread by those who like to sow chaos because it weakens us. Please point this out to anyone who share these. I don't know how to fight the disinformation problem we have, but kindly calling out errors to our friends and neighbors who are taken in must be some part of it.
---
3:06pm– Necessary re-post every cycle. Heaven forbid if we get a COVID-20: The Sequel, we better not still have the "Keep 'Dem Beaches Open" guy in charge.
---
2:58pm– It's often assumed that in each state it's a matter of comparing Trump's margins in rural areas v. Biden margins in city areas. That's roughly true. But in some areas, Trump's strength wasn't necessarily that he was so strong in the rural areas but that he decent in some cities. As Jonathan Allen just noted about Florida…
But Trump also pulled a ton of votes out of the state's 10 most populous counties. Four years ago, just a hair over 50 percent of his vote total came from those bigger counties, according to an analysis of vote data compiled by Dave Leip's Atlas of U.S. Presidential Elections, while two-thirds of Hillary Clinton's did.
One interesting thing to keep an eye on is whether Trump is winning a majority of his votes from those big counties, or if that share slips because of a swing among suburban voters.
The counties include Miami-Dade, Broward, Palm Beach, Hillsborough, Orange, Pinellas, Duval, Lee, Polk and Brevard.
---
2:45pm– There is a court battle brewing over unprocessed post office ballots. Each state has different rules about which ballots received after Election Day but postmarked by Election Day are counted. A federal judge just today ordered the USPS to sweep all their facilities and immediately send all found ballots for delivery.
The judge on Tuesday afternoon granted the request, meaning inspectors will now be on site in those areas to ensure expedited ballot processing….
USPS also identified nearly 300,000 ballots across the country that had been scanned as going out from a voter, but never received a final scan marking delivery to boards of elections. Postal management noted, however, many of these ballots were likely pulled from the normal delivery process and dropped off directly at the boards, meaning they would have never received a final scan.
All told, USPS processed and delivered 122 million ballots as of last week. […] USPS said its average delivery time for ballots since Oct. 1 is 2.5 days and 97.5% of ballots were delivered within five days. Mail delays writ large have increased significantly in recent weeks, with just 81% of First-Class mail delivered on time for the week ending Oct. 23.
---
2:24pm– More rumors, this time in Texas, that may or may not be true…
---
2:22pm– Counterpoint to 2:19. Carmichael is a R operative who previously worked on Herman Cain's campaign. She may be right but is coming from a more partisan perspective.
---
2:19pm– Rumors like this float all day. And the weight you place on them is just the credibility of the messenger. In this case, a fine White House Correspondent.
---
2:12pm– This is one of the key areas for Biden in Florida…
---
2:05pm– Reminder: Exit polls are those conducted with voters after they've voted. Regular polls ask voters who they plan to vote for. Exit polls ask, who did you vote for.

Here's the thing on exit polls: every year they mislead us (except the years they don't). And this year it's particularly tricky, because the huge number of early/absentee voters will make it even harder to get good results. But it's not for lack of trying.
Most networks get their exit polls from the same place: Edison Research. They involve in-person interviews of people on election day, right after they vote, right outside of polling places, asking all sorts of questions about how they voted and their reasons. This year, in 8 states, Edison also conducted in-person exit polls at early voting locations. In addition, they've been conducting telephone exit polls of those who cast mail in ballots. The idea is to properly get results from all types of voters. But there are potential for errors/skewed samples at every level. And so they should be taken with a huge grain of salt.
They might mean something, but they also might not.
---
1:54pm– Unfortunately, yes. This whole thing is unhealthy…
---
1:14pm– One more thing before my quick break. The Biden camp is confident in NC, GA, and WI. Here's the Biden campaign's own analysis on where the votes were before today and what Trump needs to catch up. The only issue I see with this is that I DO expect Trump's election day % to increase naturally from 2016, because many more Ds voted early who might otherwise vote on election day. We shall see in a few hours…
---
1:05pm– These next 2-3 hours are the big lull. We've been grasping at random crumbs to get any indication at all of how things are looking. Around 5pm some exit polls will come out with random data. We'll analyze it, but the info often doesn't tell us as much as we think and it can be quite misleading. Finally, from 6-10pm we will get entree after entree dumped on the table and it will be impossible to keep up. It's like we're starving all day and then we get a month's worth of food thrown at us all at once. It would be a lot more enjoyable if we could get real information trickled out throughout the day. But alas, that's not how this works.
If you're thinking about sneaking in a quick nap, now is the time to do it. I'll be taking a quick break myself to change clothes and prepare for the victory party. Should I put on the tux or not? Hmmm.
---
12:50pm– Seconded:
---
12:47pm– Another late OH poll. Honestly, I remain skeptical of Biden winning OH. But, the numbers have show this to be far closer than I've let myself believe. 538 still has it at 45% chance of a Biden win.
---
12:21pm– More tea leaves from FL. Biden probably likes these numbers
---
12:15pm– WINCHESTER — A long digression in local races for those living here in the tip top of Virginia. I'm keeping an eye on the mayor's race and 4 city council races. [Skip if you aren't following Winchester races]
How will the local elections go? We have no polling, so the tea leaves are always harder to read. Plus, local races can vary wildly depending on unique factors.
What data do we have? Our best guesses would typically come down to the general partisan makeup of the city. In 2016, Winchester residents voted for Hillary Clinton by 3.5% (48.4%-44.9%). One year later, the Democratic lead jumped further, with Democrat Ralph Northam winning in the city by 9% (53.7%-44.7%). Then last year, Democrat Jennifer Wexton won her Congressional race in Winchester by about 8% (54%-46%).
That suggests that in generic races, Winchester city is probably now about 6-9% Lean Democratic. And I'd argue that the trend has only continued each year. Plus, Ds might be more likely to come out during a presidential year. As a default, Winchester city for this election as a is likely 9-10% D. But that doesn't account for uniqueness in each race.
Mayor: Smith v. Bostick (NOTE: I'm a strong Smith supporter). This is a weird one. David Smith is a moderate leader who is soft spoken and doesn't try to generate major headlines. His opponent is the exact opposite. In fact, she may not even be a Republican, there's a suggestion that she's opportunistically with the party in order to best position herself to win. It's her right to do that. I think Smith will win with a decent margin, based on the general D support, some Rs backing him, and because Bostick has positioned herself as a polarizing figure. Of course, anything could happen, and I remain nervous mostly because of my extreme aversion to Bostick's candidacy.
1st ward (my own) – Bell v. Leach (NOTE: I'm a strong Bell supporter). This is a mixed ward. Trump won it in 2016 by a hair. Northam won the ward by nearly 8 points in 2017. But then one year later Republican Wiley won the council seat by 8 points. It's the closest we have to a swing ward.
Les Veach is a well known incumbent, but unlike Wiley, he doesn't seem to have cultivated as much of a bipartisan identity (ignoring the changing identity Wiley has taken since his win and soon to be seat in statehouse). Veach has not had a competitive race since 2008, his first election, when he only won by 2 total votes. Richard Bell has run as good a campaign as I think possible in this environment and in this district. He's a very good fit for this area, because, like Mayor Smith, he is a more reasonable moderate. I'd guess that general consensus is that Veach will be re-elected. But I'd honestly say this is a complete toss up. In fact I'll go out on a limb here and say I think Bell is a slight favorite. That could be my own bias creeping in.
2nd ward – Hill v. Mondell (NOTE: I'm a strong Hill supporter). Ward 2 is the most liberal in the city. It voted for Hillary by 20% in 2016 and Jennifer Wexton by 26% in 2018. I'm hoping the general partisan lean will ensure John Hill is re-elected. I think Hill will win.
3rd ward – Sullivan v. Hall. Ward 3 typically goes solidly Democrat. Two years ago, Kim Herbstritt easily beat an incumbent to take a seat, and I think Hall has a shot at doing the same here. Sullivan is likely less polarizing than Herbstritt's opponent. But these are voters who voted for Hllary Clinton in 2016 and Jennifer Wexton by 11% in 2018. Mayor David Smith (D) won here by nearly 19% in 2016. Sullivan hasn't faced a competitive race here, and so I don't know much about his personal connection to the district. I can't accurately gauge Hall's odds, because I don't have first hand knowledge how he's connected with voters. But I do think this is a district that a Democrat should be able to win.
4th Ward – Willingham v. Millstead. This is the easiest to call. Ward 4 is the most conservative in the city (though not rabidly so by national standards). Willingham is an incumbent with solid name recognition. His opponent is new to politics. This is a district that voted for Trump by 8% and was the only one where Barbara Comstock outperformed Wexton in 2018. A Democrat did win the other seat here 2 years ago, but I don't think those circumstances will replicate. I think Willingham will win comfortably.
I reserve the right to get all of these wrong, because local elections are notoriously impossible to gauge with much accuracy. Please don't blame me if things go south.
---
12:00pm — In July 2016 I had my first (and only) viral blog post. I argued that it was a big mistake to vote for a 3rd party candidate, because it might lead to a President Trump. I wrote:
The latest polls have the race as a dead heat, with anywhere from 10-20 percent of voters undecided or thinking about a third party vote.
A swing of even 1-2 percent of third party voters to Trump or Clinton may decide the election.
Clinton's share of the vote almost always drops in polls where third parties are included―third party candidates are hurting her more than Trump.
The most important outcome in this presidential election is that Donald Trump not become the Most Powerful Person on the Planet. I am not a fatalist. I will not move to Canada if Trump wins. But if this Republican National Convention has taught me anything, it is that I'd forever regret not doing everything in my power to prevent the party of Abraham Lincoln from being smothered into oblivion by a Donald Trump presidency.
I think the post holds up well. The 3rd party vote made up more than the difference in several states, and a plausible (but not definitive) argument can be made that it cost Clinton the presidency.
Could the same thing happen this year? The data show that it's far less likely, and that's one key reason why Biden is in a better position than Clinton was last time.
---
11:53am– Final Tally of Early Votes in 2020 Presidential Election: 100,298,838.
In 2016 the final was 47,015,596.
---
11:41am– Quick non-election personal digression. If you want to improve your life, surround yourself with thoughtful people. I've been so lucky in that regard. Kaylee G, my high school prom date, just had lunch delivered to my doorstep in Winchester, VA from Chicagoland Illinois. The power of technology and the amazingness of friendship.
11:23am– All signs point to a much better GA voting system than its screwed up primary earlier this year:
---
11:07am– True:
---
11:03am– Three polls were released today in Michigan. They had it Biden +8, Biden +7, and Biden +7. Is this how it will go? Maybe. Trump can still win, but to do so he'd need the polls to be more wrong than they were in 2016.
---
11am– From this house to the White House with the grace of God. Joe Biden 11.3.2020
---
10:56am– Broward County is one of the most important parts of FL for Democrats. They need as large a turnout as possible Right now…
Broward Dems at 73.2% turnout right now. They got 74.7% total in 2016.
---
10:53am– Every year Gallup releases voter enthusiasm polls. This year, Democrats seem to have a +9 enthusiasm edge. If that's true, it's reason to be optimistic about there being a potentially record turnout. Here's the comparison over the last few elections:
---
10:45am– Pennsylvania is likely the "tipping point" state in a close election. But because it will be slow to count, for our purposes I don't think it's going to be the race that we watch most closely at first. FL, NC, and margins in all the other states will be more telling. FL in particular is going to be razor tight, I think–but they count relatively fast, so we should know. A minor update in FL:
10:25am– Here's a quick summary of how the night might go if it happens to be a good night for Biden (@notlarrysabato's model helped me write this). I'd say print it out, but it's probably wrong and so will just be depressing when things aren't mathcing up:
*6:30EST – Polls have closed in IN and KY — if they aren't called immediately that means Biden is slightly overperforming 2016. He won't win these states, but remember, all that matters is the margin compared to 2016.
*7EST – More polls close. Little vote in, states like VA will show Trump winning early but it won't last. VT will be called immediately for Biden.
*7:30EST – WV is immediately called for Trump; KY will be called for Trump shortly. Lots of early vote in many states that are unreliable.
*8pmEST – OK and AL immediately called for Trump. IL, MD, DC, DE, NJ, RI and MA for Biden. Biden leads ECV 68-29 so far.
*815EST – Biden will show early lead in FL but it will fade over time.
*845EST – We really dive into vote totals in certain states to see how the winds are blowing. How much is Trump winning by in IN, MO, and KS. He will win them all, but if Biden is over performing 2016, it's a good sign. Look at Texas closely, hopefully Biden is close or ahead. Florida will continue to tighten.
*915EST – Polls are closed in most of the country. AZ and CO report some votes quickly with a Biden lead. WY, ND and LA immediately called for Trump. IN is probably already called for Trump by now. Biden leads ECV 98-63.
*Continue looking at FL and TX and NC. Has Trump passed Biden in FL yet? Is Biden keeping TX close? Does it look like Biden will win NC by now?
*930EST – Enough votes in the Midwest states of PA, MI, WI should be in to get a feel for whether Trump is keeping pace with his 2016 totals or not. The raw votes in these states may not be helpful, but we should have a feel for how the winds are blowing. Is Biden beating Clinton's numbers. If so, at this point it will look like he's in very solid shape. If Biden still has a lead in Texas at this point, it is OK to start getting excited.
*10EST – More raw votes coming in. By this point Biden should have finally taken the lead in VA. How close is FL — it might be flipping back and forth between them at this point. Trump will still be leading GA, but it should start to tighten.
*1030EST – States like CO and NM should be called for Biden. Keep watching TX , FL, and NC. If NC is called early for either candidate, that's a big benefit to them.
*11EST – West coast polls close. CA, OR and WA immediately called for Biden. Has NC been called? Florida probably has 90% and who is ahead?
*11:45EST – Networks may start calling a lot more things, though we might already know how the winds are blowing at this point . FL might be called. Biden may be ahead in GA. Rust belt is still counting slowly but if Biden does win FL it will seem over.
*1230EST – By this point, we will know. NC will likely be called. The Midwest states of PA, WI, and MI might still be slow, but we'll have an idea. Networks may have enough to make official call.
*We then stay up just to keep watching all of the Senate and House races. We also keep an eye on the margins in TX and OH where Biden might win, but is unlikely to be called until the next day.
This is 100% hypothetical but plausible. Alternatively, Biden could underperform everywhere, and we all watch in horror as Trump wins the close states and we wait until Wednesday desperately hoping Biden can cling to victory in the 3 Midwest states or watch the AZ results to see if Biden can pull off win even while losing one of the Midwest states.
---
10:03am– This is a very weird year for speculation about election day voting. Usually, Democrats are always hoping for huge surges at the polls, because they do better when more people vote. But, because there was so much early voting this year (dominated by Ds), the election day results will skew much more than usual to Republicans. And so reports of huge surges at the polls is actually something that Trump needs to happen to catch up to Biden's early vote lead in most places.
But's it's a hair more complicated than that, because the Ds still do need to make up some ground with election day voting in certain places. For example, in Miami-Dade, Florida, the Rs currently lead (based on registration) by +7 (it was only R+3 in 2016). The means Democrats are hoping that make up that difference with election day votes.
In summary, when you hear talk about long lines or surges today, it doesn't really say anything about who benefits. Everything with turnout is hyper local.
---
9:53am– Reminder 3 of 50: The most important thing to look at as results come in are not the raw total but the comparison between now and 2016. As I try to race through it all, I rely on the real experts in each state who pour over spreadsheets like this one from Florida looking at county by county totals.
Remember, these are not necessarily votes for Trump or Biden, just partisan ID of the voters. Though you always want more partisans to vote in your area, the earliest data from these early FL voters is that about 9% of Republicans here have voted for Biden to 3% of Democrats voting for Trump.
If you add that up, it means Biden is almost certainly ahead in Florida right now. It just all depends (and always has depended) on whether Trump can close the gap with those who vote on Election Day.
---
9:45am– There are more important elections to possibly wrap one's head around today. One underappreciated battle involves partisan control of state houses. Who controls your state house is probably more important to your daily life than who control Congress. And just as Ds have some high hopes federally, several states may actually switch control from R to D this year depending on tight local races. With redistricting coming up, these are critical contests that will have ramifications for the next decade, because state officials decide the districts.

CNalysis has the best overall state house coverage (though each individual state may have places to follow. Obviously if you are in IL go to the Capitol Fax for the best, insider coverage). Here's CNalysis's general state of the nation:
We have Democrats favored to flip 6 state legislative chambers: the Minnesota Senate, the Arizona House, the Arizona Senate, the Iowa House, the Michigan House, and the Texas House, in that order of likelihood. Republicans, meanwhile, are favored to flip the Alaska House.
Nationwide, Democrats are favored to have a net gain of 123 single-member state legislative districts in our forecast: a net gain of 77 seats in the lower chambers and 46 seats in the upper chambers.
---
9:34am– Images like this always get me. Those who live in medium to small towns usually have a very simple voting experience their entire lives: go to the local fire station or school, wait 5-10 minutes, vote, and gone.

But, if you've never lived in an urban area or jammed suburban community, you may not realize that many fellow voters have a far more difficult time. All of the talk about voter suppression and unnecessary roadblocks to voting are lost on some Americans because they don't quite appreciate that other citizens have very different experiences than they do.
---
9:27am– Hopefully you have a comfortable set up for your election day minute-by-minute panicking. Over the years I've streamlined my process so that I only need two monitors (though I split the screen on the big one so it mostly acts as three separate spaces). The TV is usually on mute. I only listen to TV sound if things are going well, and I want to hear the cheers declaring a candidate victorious.

I find it useful to have a clean desk and tidy room to hide the fact that mentally I'm usually a complete mess. Whatever the case, get cozy, because we'll be here for hours.
---
9:08am– You'll see a lot things like this today, talking about gaps between Rs and Ds in certain states. Know that this just refers to registration status of voters (in the states that have the data). It doesn't refer to the actual votes for Biden or Trump in those states. Critically, Biden is hoping to swing 5-10% of voters who are registered Republican into his camp. That might not seem like enough, but it's huge on the margins and will decide close races. Conversely, all polling points to Trump swinging far fewer registered Ds into his camp (2-4%).

In other words, be careful with reading these claims. They aren't completely useless. Of course each party wants more of their own registered voters to vote. But, the registration numbers tend to even out in the end, and so they don't tell us too much about how these people actually voted.
---
8:57am– The candidate schedules for election day often indicate what each campaign thinks is the most important states that will decide the election. Here are the two plans.
President Trump is set to hold five rallies in four states – North Carolina, Pennsylvania, Michigan and Wisconsin.
Joe Biden went to a church service, then visited his son Beau's grave. He will then spend most of the day in Pennsylvania with a stop in Ohio, while former President Obama stumps for him in Georgia and Florida.
---
8:52am– Speaking of South Carolina's Lindsey Graham, here's a refresher on all of his thoughts on Trump before he was nominated. Then, Trump won, Graham's mentor (and Trump critic) John McCain died, and Graham decided that he'd become one of Trump's most vocal allies in an effort to destroy his reputation completely.
---
8:40am– A quick rundown of my current thoughts on the Senate. Remember, Ds need to flip 4 to take the Senate (if Biden wins, if he loses they'd need 5).
1 &2) Colorado & Arizona – these are the strongest flip states. It'd take some really odd polling or bizarre scenario for the R to pull it out. [538 gives Ds 84% chance to win CO and 78% in AZ]
3) North Carolina – Cal Cunningham (D) has led most of the race, and even with his affair scandal over the last month, the polling seems stable. I think he pulls it out, though perhaps a hair closer than some suspect. [538 gives Ds 68% chance]
4) Maine – Sarah Gideon (D) has been ahead most of the race as well. Collins will also be hurt by the fact that Maine has ranked choice voting. That means those candidates who cast 3rd party can then pick Gideon as their #2 and she'll ultimately get those votes. The Green Party candidate has explicitly asked her supporters to do that. Collins could win on the first ballot but then ultimately lose. (It sounds more complicated than it is, but just know that this system helps Gideon in this race). I think Gideon pulls it out. [538 gives Ds 59% chance]
After those core 4, things get far murkier…
Iowa – Democrat Greenfield seemed to be ahead most of the race, but the latest polling over the last week wasn't great (including from Selzer which is considered the best IA pollster). R-Ernst is probably now a slight favorite. I don't think it's over, but my gut says it'll take some luck. [538 gives Ds 42% chance]
Montana – Of the remaining options, I'm most optimistic about this one. Montana is red, but they buck trends consistently, and D-Bullock is a popular figure (the current governor). He can't be considered a favorite, but for me, if Ds get a 5th win I'd guess it's this one. [538 gives Ds 31% chance]
Georgia- There are two Georgia races. In Georgia if a candidate doesn't get 50% of the vote, then there is a runoff in Jan. One of the races (the special election with Warnock) will almost certainly go to a runoff. The other, Ossoff v. Perdue is also a likely runoff, however, there is an outside chance one candidate cracks the threshold. I'm slightly more pessimistic about Ossoff's chances of cracking it, but some polling has been positive, and GA may be closing slightly in the Ds favor. [538 gives Ossoff 43% chance of winning, though not getting 50%]
South Carolina – I think many of us desperately want Lindsey Graham to lose his seat. He has shown himself over the Trump presidency to be a man of virtually zero principles, throwing away everything he previously said and believed in a bid to slavishly attach himself to the President. The fact that this is even a race, in a place like SC, is impressive. It's not impossible for Harrison to beat him, but polls have shown Graham holding with a slight lead. [538 gives Ds 23% chance]
Alaska – Like Montana, AK is a cavalier state that doesn't always follow the mold. Dr. Al Gross is an underdog in AK, but I'm keeping a closer eye on this one as a sleeper surprise for Ds. [538 gives Ds 23% chance]
Kansas- For a moment, it seemed like Bollinger-D had real momentum, though recent polling has soured on that. Ds were hoping that Rs could nominated Kobach (a far more divisive figure in the state). I don't think this is the year that it flips but in a true blue wave, it might. [538 gives Ds 20% chance]
Texas- Will MJ Hegar flip Texas? I highly doubt this is the year, but if there is some massive D overperformance it's not impossible [538 gives Ds 14% chance]
Kentucky- Amy McGrath received a king's ransom in funds and Democrats despise Mitch McConnell. But McGrath won't win. Sorry about that. I'd love to be wrong. [538 gives Ds 4% chance]
---
7:50am– Will this election break any turnout records? 2008 was recent high water mark at 58%. We haven't cracked 60% since 1968 — a year of huge turmoil that some have compared to 2020. Will this be the year that we do it? If not, then I can't imagine a year where we ever do without major election reform that makes its far easier to vote and truly encourages mass voter participation.
We know that over 100 million Americans have already voted. Most models project anywhere from 145 million to 165 million will ultimately vote. If that range is true, that would be anywhere from 60% to 72% turnout and the higher end would represent the biggest turnout of the modern era.

Also, here are turnout figures so far in each state in comparison to 2016 based on early voting alone…
---
7:38am– Another reminder from Jennifer Lewis (slightly nsfw):
---
7:35am– I think this is right. RealClearPolitics refers to the RCP charts of all swing states that I shared last night. In the past, RCP was somewhat useful to gauge trends and see the very raw averages. But without any filtering, and with so many more dubious pollsters who methodologies that make little to no sense, I don't think it's a useful barometer. Though, we will find out for sure tonight if we can discount all RCP details in the future…
---
7:30am– Here is @bpolitics model numbers for how he thinks the early vote in Florida looks (these are not real totals, just speculation based on available data). If true, this would be a larger lead for Biden going into Election Day than Clinton had in 2016. The big question here (and in every state) isL Will Trump win Election Day voters by enough to make up his current deficits in early voters?
---
7:20am– Most people reading this have probably already voted or will soon. But, we all know others who aren't politically active. Like avoiding the dentist, there is a chunk of folks who try to avoid all things politics (including voting) as much as possible. If you have an opportunity to gently nudge someone in that camp, remember that in 22 states, people can still register today and then cast their ballot:
---
7:15am– Important:
---
7:05am– This is possible. None of this will be official until much later, but the tea leaves may be there. In other words, unless it's razor tight, the fact that there is a surge in early voting does not mean that we will automatically go to bed without knowing. Odds are, we will know the likely next President. Certain Senate, House, and local races, however, could take awhile depending on how close they are.
---
6:40am– Throughout the night the first data that matters are comparisons to 2016. The raw vote totals are meaningless for quite awhile. BUT, the comparisons in specific geo areas and precincts to 2016 can be telling. Basically, we will always want to know: Is Trump doing better or worse than he did last time in this specific spot?
So let's that these two tiny hamlets. In 2016, after these two voted, Trump was up over Clinton by 36%. This time, in 2020, he is up over Biden by 22% – that's a shift of 16% in Biden's favor.
It's important not to overthink it. This is a tiny sample that is meaningless. But it's the kind of analysis that will matter tonight — and if you are desperate for any kernel of good news for Biden, just pretend this means he will do 16% better than Clinton everywhere. 😉 Life is short, election day is stressful, feel free to take the optimism wherever you can find it.
---
6:15am– The first votes are here. In Dixville Notch, NH, Joe Biden won all 5 votes, taking a 5-0 lead in the election. However, that didn't last long, as a few minutes laters, in the town of MIllsfield, NH, Donald Trump won 16-5. That means that tally at the moment is 16-10 for Trump.
In 2016, Clinton won Dixville Notch 4-2-1-1 over Trump and Gary Johnson and a write in for Mitt Romney. Last time in Millsfield, the tally was similar to this year with Trump winning 16-4-1 over Clinton and a write-in for Bernie Sanders. That means that Biden is already running a bit of ahead of Hillary's margins.
Will it hold? We just need to wait about 18-24 hours to find out!
---
6am– Rise and shine. Vote. Remind others to vote. Take a deep breath of November air. Remind yourself that, whatever happens, you're lucky to be an American living at this time in the universe. For the vast majority of human history, it was incomprehensible that people would gather, freely make a personal choice for leadership, and then wait to see who received the most support. It's mundane to us now, but I'm always grateful on election days (even ones that don't go my way…well, the gratitude is still there, just hidden under other emotions).
---
---
ELECTION EVE LIVE BLOG
9:10pm– I promised myself that I would wrap up around 9pm EST — because who knows how late we will be up tomorrow.
I'm off to try and catch at least a few hours sleep before getting up early for the day many of us have waited a rather long time to see. I urge you all to go to bed earlier rather than later, because most of the "developments" that happen right now are noise. Tomorrow is when we finally get the good stuff. Sweet dreams. Only one more sleep…
9:05pm– In 2016 about 47 million Americans voted before election day. In 2020, it will finish with about 100 million Americans voting before election day. We don't truly know how much of that is because of the virus or because enthusiasm is so high. We'll need to wait until we get the final count, though we might get hints throughout the day tomorrow.
---
8:58pm– The Ds were able to spend about $250 million more than the Rs in the states that matter over the course of the campaign. Believe it or not, as things were just gearing up for 2020 race, it was assumed that Rs would have a clear cash advantage. But the Democrats fundraising boomed over the last year.
---
8:50pm– Several states have passed or nearly passed their total 2016 vote already, before election day. Florida won't reach it but is damn close…
FLORIDA HAS BEEN UPDATED (11/2)
9.07M TOTAL (39.1-37.9% Dem/Rep)
4.73M Mail (45-31% Dem/Rep) 4.33M In Person (45-32% Rep/Dem)
This means 96.9% of the 2016 vote is in for FL
---
8:42pm– Two little communities in New Hampshire (Dixville Notch and Millsfield) historically cast their votes at midnight and then immediately report the results to become the first places in the country to announce where they stand. That means the first votes on Election Day 2020 will be reported out in less than 3 hours and 40 minutes.
---
8:30pm– Late night Data for Progress poll (decent track record) has good numbers for Ds.
Reminder: Georgia law requires a Senate candidate get at least 50% of the vote. If they don't, then there is a runoff election in January between the top 2 candidates. Having Ossoff up at 51% is a huge deal. He desperately wants to avoids a runoff, where his odds may be lower. (There's also a second GA race on the ballot tomorrow.)
---
8:22pm– A few last minute Senate polls have been decent for Rs in the "stretch" states of South Carolina and Kansas (KS poll had R up 6; SC poll had R up 4). In any normal year, hell just a few months ago, these seats wouldn't even have been on the radar. Ultimately, I think it's likely that Marshall in Kansas and Graham (ugh!) in South Carolina hold onto their seats. Graham is at a slightly higher risk, but it'll take a real D groundswell for either of those seats to flip.
---
7:14pm– Poll update. If you look close, you'll notice that most of the polls that show a "tightening" in certain states (movement to Trump) are those I listed a highly partisan Rs. This is referred to as "flooding the zone" in the last day of the election…with very low quality polling drowning out sites like RCP that do not filter them out (they just average everything). Polls in AZ and IA may show slight movement toward Trump, but I think all the others show a stable race.
6:45pm– We've reached the moment when basically all polls are done (a few will come out tomorrow but they don't matter). At this point, swing state polls are all that matter.
For the sake of not painting too optimistic a picture, here are RCPs final polls in most swing states. DO NOT panic at a few of these. Some R pollsters are notoriously partisan with quite unorthodox methods, (Trafalger, Rasmussen, McLaughlin, InsiderAdvantage) and I personally don't their results at all. RCP has a slight R bias because they do not filter out the most egregious pollsters. This may seem sobering, but take one last look. Then, take a break, like me, and eat dinner.
---
6:20pm– No matter what happens tomorrow, one positive is that all of the campaign texts and emails will finally end. My phone has been beeping every 30 seconds today, Sweet Jesus…
---
6:15pm– For the true election junkies, I recommend browsing @taniel's guide to all the campaigns he's following across the country: HERE.
There are some state referendum that I'll be keeping an eye on, including:
Oregon will vote to decriminalize almost all low level drugs (including cocaine, heroin, and meth) and instead fund addiction treatment.
Arizona, Montana, New Jersey, & South Dakota are all voting whether to legalize marijuana.
Oregon & DC both vote on legalizing(ish) psilocybin (magic mushrooms). The new research into psychedelics has been a curiosity of mine for awhile and I hope more states start looking into this.
CA initiative related to gig workers (uber, etc.) may have huge implications on how those businesses operate across the country.
IL is trying to allow progressive state income taxation (like most states already have) instead of the flat tax.
---
6pm– Don't sleep on your own local races. The reality is that all of our lives are impacted much more by races closest to home. These are the people who decide what construction projects get built in town, where the roads go, how schools are run, what your property tax rates are, how your library looks, and what businesses to lure to town.
Here in Winchester, Virginia we have a hotly contested mayoral and city council races that I'll be following (more on that later). But hopefully everyone took a hard look at their own regional contests. Your individual vote is proportionally waay more important in those races anyway. They also tend to be less partisan — there may be some Republican candidate you like, Democrat ones you hate, or vice versa.
---
5:55pm– I'll spend less time on the House tonight and tomorrow, because it is less up in the air. Right now, FiveThirtyEight gives Democrats a 97% chance of retaining control and suggests that Ds will expand their House lead by about 6 seats (though other models are more bullish and project a bigger D gain).
Almost no one expects the House to flip, though there are many interesting races with unique stories that I'll be following. One more Virginia seat (VA 5, Charlottsville and the middle of the state) may flip to the Ds, and I'll be watching some Illinois races as well — including the district that represents the University of Illinois which may finally flip after flirting last cycle.
---
5:45pm– For perspective, right now FiveThirtyEight gives the Democrats at 74% chance of gaining control of the Senate. Still less likely than the Presidency, but they're favorites. That mostly because even if the Ds miss one of those core 4, then they could still sneak in one of the others. Each state has unique politics, and so it's not guaranteed that a wave one way or another will take out all Rs or vice versa. For example, just in 2018-which was a huge D wave year–the Republicans won a Senate seat in Florida that they were not expected to win.
---
5:42pm– Time to switch gears. The Presidential race has seemed relatively stable for the last few months. But what about the Senate? Even if Biden wins, without the Senate, his ability to do much of anything policy-wise is going to be near impossible. Because each Senate race has its own unique factors, there is always more uncertainty in those races.
Here's the basic situation: The Ds technically need to pick up 3 seats to make it 50-50. Then, if Biden wins they'll always have the tiebreaking vote (the VP).
The Ds have always had FOUR seats where they have decent chance at flips: Colorado, Arizona, Maine, & North Carolina. I'd say CO and AZ are very likely pickups. The other two lean D but are not locks.
BUT, the Rs are almost assuredly going to flip a D seat in Alabama (Doug Jones only won it in a miracle election with one of the worst R opponents ever).
That means that Ds need to get all 4 of those core seats to get to 50-50.
BUT, there are a several other seats that Ds also might flip (all in traditionally red areas) that are possibilities. Specifically: Iowa, Montana, South Carolina, Kansas, Alaska, and Georgia (two seats, special election, likely runoffs in January).
There are a few other seats that are longshots and something weird may happen. But overall the number to remember is FOUR. The Ds need to flip FOUR seats.
---
5:30pm– Interesting little chart from Payscale on voter preferences based on profession…
Strongest for Trump: Construction
Strongest for Biden: Legal, Social Services
---
5:20pm– The rule of thumb is always to be highly skeptical of any claims that a candidate will win a state based on some analysis of early voting. Year after year, those attempts have simply not born out. They just mirror the polls. In other words, if you want to know who's likely to win a state, look at the polls of that state (not someone's guesses based on early voting).
BUT, there is one major exception to that, the state of Nevada. Because of some quirks in how Nevada is dispersed (enormous majority of voters in the area in and around Las Vegas in Clark County) and how they run election, the guru of Nevada politics (Jon Ralston) has a perfect track record of predicting who will win the state based on early vote numbers.
In short, Trump will have an X vote lead in all the rural counties and Biden will have an X vote lead in Clark County. Whosever lead is bigger, wins. Ralston posted his predictions this morning and said that based on his analysis, Joe Biden will win the state of Nevada.
Nevada was probably the only state that Clinton won in 2016 that Trump's team thought it might have a chance to swing. Ralston might be wrong, but it's at least a good early sign.
---
4:55pm– I'll soon start speculating on the potential impact of early voting and demographics. Just as a general disclaimer — this is really deep speculation and not too much stock should be placed on it. The data we have now is on early voting. Some states publish partisan breakdowns of those early voters, some don't. Some states have robust demographic data on those voters, others don't. These are very very very early tea leaves, and they are better than nothing, but please note that this is not at all definitive.
For example, as of an hour ago, nearly 240,000 African American seniors have voted in Georgia. This is one of Biden's strongest demographics. This is already 124% of the total turnout of that group in 2016– and it's not even Election Day! This is tremendous news for Biden in a state that he has a very real chance of turning blue for the first time in a long time.

But does this mean Biden will win? No. Because we don't yet know if some of Trump's best demographic groups will also show the same surge in turnout. The big thing to focus on is comparisons, not just some good news for one side.
---
4:45pm– It has come to my attention that I'm painting quite the rosy picture (at least for those hoping for a Biden win). The truth is, looking just at the data we have, it's hard not to be optimistic. Pretending that it's a toss up would be disingenuous– and I try to be honest as much as possible.

BUT, that is not at all to say that Biden will win, Democrats will take control of the Senate (there'll be much to talk about that later), that Ds will gain House seats, or that your favorite local race will go your way.

Regarding the Presidential race, here's some things to keep everything in perspective:
Trump still has at least a 10% chance of winning based on most analysis. The comparison that keeps floating around is that it is equal to the chance that it rains in L.A. Apparently, it averages 36 rainy days a year. Sure, it's more likely that it won't rain but far from impossible. If something very important relies on it not raining, you won't be 100% confident until the day arrives. That's still how we should feel.
The swing state polls are closer than national polls. Biden's national polling has him up 8-11% most of the season. But the race is closer in most swing state polls. Sometimes those errors correlate, and so if there is a big polling miss in Midwest states (like in 2016), the closeness of those errors may have a domino effect (meaning Trump cn sneak by in PA, MI, WI like he did in 2016).
Trump will need a polling error bigger than 2016. However, 2020 has already been a very bizarre, unprecedented year. There has been an enormous surge in early/absentee voting and no one knows how much is because of the virus vs. voter enthusiasm. And there's no definitive understanding of how this change from previous years has impacted pollsters. Presidential elections don't happen very often, and each cycle something brand new can pop up that no one saw coming — maybe that happens this year.
Trump has huge rallies and boat parades. (Just kidding. These are useless indicators and anyone who tells you otherwise has no idea what they are talking about).

---
4:25pm– This is 3 days old now, but even with latest polls it's mostly unchanged:
---
4:17pm– If you want to act a true election supernerd, you can join me in listening to this Spotify album: Election Songs of the United States from 1800 to 1948. Such gems, though I'm always partial to the diddy from Lincoln's re-election in 1964, "Rally Round the Cause, Boys," when we literally had an election in the middle of the Civil War:
---
4:05pm– The big "electability" question in the Democratic primary was often framed around whether to beat Trump, Ds needed to rally the base and spur turnout (and nominate someone like Bernie) OR focus on persuasion of voters in the middle. My own thoughts were that persuasion was the best path in this particular election (and so I supported Biden). I respect those who disagreed. I'm biased, but I do think the persuasion argument has proven accurate as we head into election day. For example…
---
3:56pm– One more optimistic data point going into tomorrow. Hillary's big issue was the size of uncertain voters going into Election Day. This year is different: In 2016, 10% of voters said they were undecided or voting 3rd party going into Election Day. Trump won most of that 10% and it was the difference in the election. In 2020, that number is just 5% on the RCP average (and unlike 2016, Biden has been getting a larger percentage of those undecided voters).
---
3:46pm– For me perhaps the most striking difference between 2016 and 2020 is candidate favorability numbers. It's the main reason why some believe Biden will win while Hillary didn't.
In 2016, Hillary Clinton had a -12.6% favorable rating on Election Day. That's almost exactly what Trump was at in 2016. In other words, voters disliked both strongly. A majority of those who disliked both went with Trump (basically saying, they both suck so lets try this guy).
That's not the case this year. Trump hasn't moved much with a -13.2% favorability, while Biden is +6.4% (A 19% higher favorability rating than Clinton). Trump has been trying to bring Biden's favorables down all year, but it's simply hasn't worked.
---
3:35pm– One more graph to help ease those whose guts are telling them that this is just like 2016. In hindsight, the signs were there that Trump was closing very fast on Hillary. But most (myself included) simply struggled to believe that Trump could actually win. The red flags first showed up in 2016 in district by district Congressional numbers. Republicans surged near the end of the race as independents and undecideds went hard for Rs. The 2020 numbers are simply different…
---
3:28pm– Here's another smart graphic on the difference between state counts. It seems complicated, but it's helpful to see the difference between when states start opening and counting early/absentee ballots. Everything about "when will we know" hinges on these details. For example, states like AZ and NV have already been tabulating for 2 weeks. For the record, Ds attempted to pass legislation in WI this year to allow an earlier start to tabulation, but it was rejected by Rs.
---
3:22pm– I'll be harping on this all tomorrow, but this graphic is nice and succinct. The swing states that process absentee/mail immediately will have full results earliest. Pennsylvania and Wisconsin will be the very last to get all things in (and Biden's vote will initially seem small in those states).
---
3:16pm– Will be interesting to see if this proves true tomorrow. Will D precincts that often have long lines be mercifully less crowded?
---
3:08pm– Of course, the overriding fear among Biden supporters is that 2020 will be 2016 redux — a polling lead that collapses. Could polls be off again? Yes. But, even at the most basic glance, the 2016 race was more chaotic than 2020. Here are the national polls in 2016 vs. 2020…
---
3:05pm– Conversely, Trump is scheduled to travel the country a bit more with events in North Carolina, Pennsylvania, Michigan, and Wisconsin. The comparison with Biden is striking, because Trump needs to turn back the apparent polling tide in many places (if polling is correct), while Biden is mostly hoping to shore up the likely tipping point state of PA.
---
3:05pm– Do you want to know where the Biden camp sees as the focal point of the race? Look at where they are spending all of their last campaigns seconds — Pennsylvania. Both Biden and Harris have multiple rallies scheduled in a barnstorm throughout the state today. As they (and most) see it…they win PA, they win the election.
---
3:00pm– Election Day weather forecast: It looks to be mostly dry throughout the country. Few will use weather as an excuse to skip voting. The old story is that rain is good for Rs and bad for Ds. That's because R voters historically are more reliable, and Ds count on a higher turnout with votes from the infrequent voter. However, that's all out the window this year. The Rs are relying much more on election day turnout than Ds (because of the huge surge in absentee and early voting that favors Ds). Democrats have already banked big leads in many states. The question now is will R turnout on election day (which will favor Trump and down ballot Republicans), be enough to catch up. Anything that dampens election day turnout (like weather) would disproportionately hurt Rs.
---
3:00pm– Here's a handy chart that you can refer back to which shows which states are likely to count fastest. Also, it goes state-by-state to show what type of votes are released first (election day v. absentee va. mail). That's critical for interpreting results. If election day results are reported first, then they will certainly have a Trump advantage. If absentee and mail ins are counted first, then Biden will appear ahead. As always, don't panic or be overly optimistic at the first results.
---
2:50pm– When will we know the result of the presidential race? It depends, of course. There are three levels of "knowing" the results:
Official Official Results– The tally, certified by states, will certainly not come tomorrow, and it never comes on Election Day. All ballots must be counted, and that includes late arriving mail in ballots, provisionals, and the like. It takes days and weeks for that.
Official Results/Projections for the Networks– This is what most people think of as the results, because it's when the TV election hosts flash a big, "Major Projection" sign across and say that they believe X candidate will be elected the next President. Networks use very specific criteria for "calling" a state for one candidate. Once they have called enough states for one candidate to reach 270 ECV, they project that candidate wins. Because of the large number of votes cases early/absentee AND the fact that swing states like MI, PA, and WI may be slow to count, I think many networks may hold off on official projection until Wednesday. But that doesn't mean we won't know the winner until then, because…
Unofficial– This is where the general analysis comes in. We may not have an official projection on election night, but unless it's razor thin, we will know who will be the next President. Some states will come in early — FL, NC, perhaps TX. Once a few of the swing state tallies are in (combined with comparing Trump's performance in certain areas in 2020 to 2016), then we will all get a feeling for where the wind is blowing. It's only if it is very very close that we will have to wait until Wednesday to truly know.
---
2:40pm– The song of the election from the incomparable The Chicks:
---
2:30pm– Here is the state of the presidential race based on the most well known modelers and analysts in the country. These are the data gurus who have magic secret formulas based on polls, fundraising, historical election data, and other criteria that they mix together and come up with odds of a candidate winning…
2:15pm– Let the games begin.