*10:22pm – OH just called from Trump. I suspect that FL and NC will be called soon. Once that happens, Trump will be the favorite to win it all. But it wont be officially over. Deep breaths all. I genuinely DO recommend muting your TV. Nothing they say will make you feel better. I'm going to take a break myself to re-group. Starting at 5:30am was a bad idea.
*9:58pm – Clinton takes a tiny lead back in VA with 84% in. Still razor tight, but a sliver of good news for her. The story of her night, if she pulls this out, is thin thin margins in some swing states as well as states she was already expected to win…like VA.
*9:54pm: We have reached the point in the night where we all basically just watch with nails bitten off as results trickle in. The TV folks will try to figure out where the outstanding vote is coming from, which is somewhat helpful. But overall, there is little more to do than wait and wonder. Just know that this is not over yet.
If you find your anxiety out of control, my suggestion is to mute the TV, turn on some soothing soundtrack, grab a glass of wine (or comfort drink of your choice), and catch your breathe. Remember that we will survive any Presidency–even ones that seem catastrophic. You are not alone–there are hundreds of millions of us who will get through it together.
*9:40pm: Right now I think all eyes are on FL, NC, and VA. From the numbers I've seen, FL may almost be out of reach for Clinton. VA is looking like she has a chance to squeak by, with 26% still left uncounted, but if she wins it will be razor tight. NC is also a toss up that likely is more likely to go to Trump at this point. If you are a Hilllary supporter, focus now on those VA numbers.  Then keep an eye on the MI numbers.
*9:35pm – I admit that I am finding it harder to make frequent posts, as this thing goes in a way many of us did not expect. However, we could have just called this a near-tie election from the beginning, and this is what we would have expected. It is most shocking now because it is so different than what we expected–not because it is over. We clearly live in a near 50-50 divided country….lets just hope that we can find a little more of our shared humanity after this is over.
*9:25pm –
Entire world. #ElectionNight pic.twitter.com/6JIF0b2pgR

— Pedro da Costa (@pdacosta) November 9, 2016
*9:15pm – Things can get very scary, very quickly if Florida, Virginia, and North Carolina are all called for Trump in short order. Those outcomes are atually now more likely than now. Clinton can still make up the gap, even if she loses those states, but that means she'd need to win most other critical states. If Trump pulls off these upsets in these early states, though, that signals that she might have an uphill battle in those other states.
*9:05pm – FiveThirtyEight has updated its model…..Clinton now has a 73% chance of winning. Democrats have a 31% chance of winning the Senate. The momentum with returns is with Trump right now, but that does not mean he's going to sweep in. It could take just a small win for Clinton in one of these tight states to swing things.
*8:55pm – Trump may be pulling away in FL and NC.  Wow. The VA race is really the shocking one. He may steal that as well. If that happens, so much of what was projected before will need to be re-evaluated.
*8:42pm – Be aware–this may be a very long night. There are far more "Too Close to Call" races now than at the same point last time. If you thought you risk of heart attack ended after the baseball season–think again.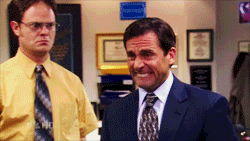 *8:37pm – Most are now calling that the Republicans will keep the House. That was obviously true even before Election Day. But the tightness in FL and VA is an indicator that Clinton definitely won't have some surprise massive blowout. The electoral map still is favorable for her. But, overall, this is a stressful time for Clinton supporters.
*8:30pm – Oh boy, this is getting wild. Virginia has just been moved from "Too Early to Call" to "To Close to Call." That is definitely not what Clinton wanted to hear.
*8:27pm – Trump now up by 65,000 votes in Florida. This state is going to go down to the wire, and against earlier though, he might take it. Remember that Florida was the closest state in 2012 (Obama won it by a hair). No matter what, it likely won't be officially called until later in the night.
*8:25pm – Todd Young officially wins vs. Evan Bayh. This one hurts for the Democrats, as Bayh formerly held this seat.
*8:21pm – Take this for what it is worth…Trump under-performing in an important county that Romney won big.
More good news for Clinton in Ohio. https://t.co/DTLmQCXhXP

— Henry J. Gomez (@HenryJGomez) November 9, 2016
*8:20pm – Votecastr has released its final projections in all the states that it was tracking It will be fascinating to check on the accuracy to the final tallies. If it close, then you can bet this sort of experiment will be going on in many future elections…
*8:10pm – Trump has taken the lead in the raw vote in Florida.  But, there are many MIami-Dade to still come in. This is probably going to be a nail-biter.
*8:08pm – Finally some good news for the Senate Democrats. Early exit polls have Jason Kandor UP in Missouri against incumbent Roy Blunt. If they can win in this state, their chances of getting the Senate back are still alive.
This is a reminder that every state and candidate is very unique. It's hard to predict a wave election, because there are always many exceptions.
*8:05pm – FL still looks tight and Trump gaining a bit. It honestly could go either way, still. No one can get complacent just yet. Eeek.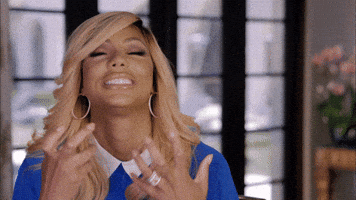 *8:04pm – Duckworth win IL Senate seat. That was expected, especially after Kirk's gaffes at the end.
*8:00pm – More closing – Fl is "Too Close to Call" ; "PA is "Too Early to Call" ; NH is "Too Early to Call" ; MO is "Too early to Call" (Trump leading) — ME is "Too Early to Call (Clinton leading)  — Illinois to Clinton — New Jersey to Clinton — MA to Clinton — TN to Trump — MD to Clinton — AL to Trump — OK to Trump — CT to Clinton –MS to Trump — RI to Clinton — DE to Clinton — DC to Clinton —
All expected. Kinda.  MS and ME as too early to call is somewhat surprising. Also PA is labeled as "Too early" instead of too close, which may mean something.
*7:54pm – Just a reminder–even though at the Presidential level, Clinton has gotten some good news. This thing i far from over. The results in FL are definitely not certain, and if she doesn't win that, we are talking about a real close election.
*7:50pm – Trump wins SC.  Not surprinsing.  Now we should keep an eye on VA to see how long it takes for VA to be called for Clinton.
*7:42pm – FiveThirtyEight now has it at 55%-45% chance that the Republicans keep control of the Senate. This morning the Democrats had a 50.7% chance on winning it back.
*7:37pm – In more good news for Republicans in the Senate, Marco Rubio is clearly outperforming Trump in FL. This is a result of "ticket splitting" where voters chose not to vote for the Republican at the top of the ticket but DO vote for other Republicans. If this holds elsewhere, the Republicans may sneakily keep complete control of Congress–even if Hillary wins handily.
*7:35pm – Another big Republican Senate win – Rob Portman already called as winner in OH. It was expected, but only a few months ago it was a nailbiter. The Repblican Portman really pulled away at the end.
*7:31pm – I was wrong, NC is actually listed as "Too Early to Call" —as expected OH is "Too Close to Call"
*7:28pm – Early numbers in the Indiana Senate race indicate that the Republican Todd Young may squeak one out against Evan Bayh. That's encouraging news for Republicans hoping to hold onto the Senate.
*7:25pm – In five minutes there will be poll clsoings in OH and NC. Both will undoubtedly be called "Too Close to Call" at that time. But we may get some exit poll data about how things look. It legitimately could go either way on these…
*7:23pm – The numbers coming in from Florida continually do not look great for Trump…The numbers show Clinton winning by 10% in the Tampa area, which cannot happen if Trump wants to sneak this thing out.
That's Tampa. That's a coffin door swinging on the Trump campaign. https://t.co/lPxWiJxTBH

— Dave Weigel (@daveweigel) November 9, 2016
*7:15pm – Yearly reminder: Do Not Panic when you see the percentages of each candidate in some states (like FL) with just a sliver of the vote in. We usually do not know where those votes are coming from. Each state is typically segregated with supporters of one candidate living in the same region. Huge swings can occur if one candidates stronghold come in at a certain time.
*7:12pm – While SC and VA are "too early to call" the exit poll data shows that Trump is leading in SC and Clinton in VA—both are as expected.
*7:08pm – Apparently, exit polls in GA had the race as 48 – 47 for Trump.
*7:06pm – The biggest takeaway of that first batch of calls is that Georgia is "too close to call." Everything else was expected. The initial indication is that the demographics have changed in the state and those demographics are voting as you'd expect–minorities increasingly voting for Democrats. If that trend holds elsewhere not only will Clinton have a good night…but other Democrats might as well.
*7:04pm – The Virginia regional breakdown is just as expected. Trump is getting killed in "Northern Virginia" — DC Suburbs– and winning big downstate. But very similar to Illinois, the population in the NoVa area dwarfs that of everywhere else.
*7:03pm – "Too Early to Call" in South Carolina.
*7:01pm – "Too Close to Call" in Georgia…."Too Early to Call in Virginia. That is telling. Good signs for Clinton. IN and KY to Trump. Clinton gets VT
*6:59pm – Here's a partial view of Trump's state.  Yes, that is a "Make America Great Again" hat in a glass case: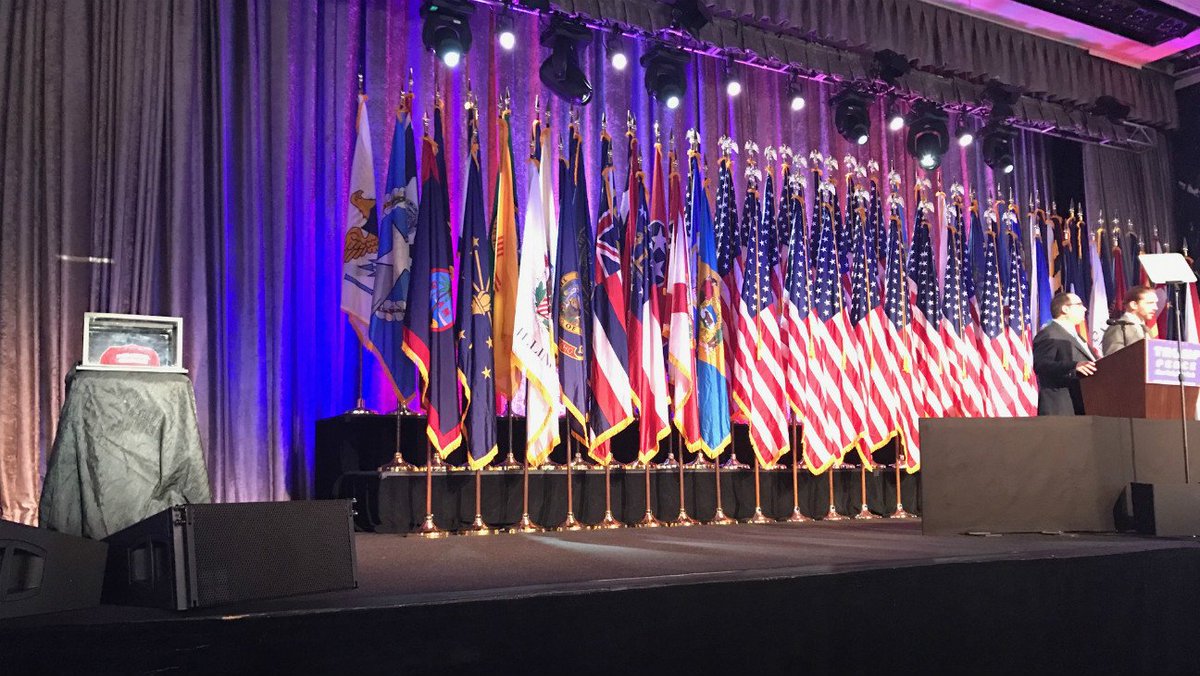 *6:56pm – Here's Hillary's stage for tonight (I haven't been able to find a photo of Trump's yet):
*6:53pm – With only a few minutes left until the real results start trickling in…there is a lot more of this going on across America: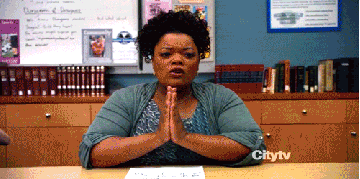 *6:41pm – As always, when polls close in 20 minutes, expect some states to be called almost immediately. Some southern and midwestern states will go to Trump. Hillary will immediately get some New England states. That trend will continue all night. By the time the Central Time Zone states close, a swatch of them will be called immediately as well, even though we still won't know the result in states to the east like Florida, Pennsylvania, New Hampshire, North Carolina, and perhaps Virginia.
But also keep an eye on states that should traditionally go immediately to Trump, like Georgia. The longer that goes undecided the better news for Hillary. Even if she ultimately does not win the state, the fact that it is too close to call for awhile means she's performing well today overall.
*6:26pm – New updated exit polls now suggest some different results on the percentage of Latinos who voted for Trump. Early exits had it at 65%-27% for Hillary. Others suggest it might be closer to 79%-18% for Hillary.  That would represent a significant decrease in Trump performance as compared to Romney in 2012. Just another reason all of these exit polls should be taken with a grain of salt.
*6:18pm – This is the largest urban county in Florida that is a Democratic stronghold:
Broward breaks a record for the most votes ever 827,385 as of 6:01. Less than an hour left. Get results at @CBSMiami

— Ted Scouten (@CBS4Ted) November 8, 2016
*6:07pm – Less than an hour before the first states begin to close their polls. Obviously we will then start getting some hard numbers. These will include the actual votes that are processed and the networks will combine that their exit poll data when making their calls. Also, remember to keep an eye on the number for the early Senate races in those Eastern states–North Carolina and NH.
*5:57pm – Update on the Votecastr numbers. An hour and 20 minutes after the last update, Clinton is still up in all 7 swing states, but Ohio is so close that its almost a tie.
*5:55pm – It is important to distinguish national exit poll data and swing state exit poll data. Some data indicates no national change in the racial composition of voters nationwide. But, for example, the Florida-specific exit poll data shows a significant increase in the minority vote percentage. And it is the swing states that ultimately matter the most for the presidential election.
*5:50pm – Don't forget that exit polls have been inaccurate in that past, and so if annything scare you so far….deep breaths.
*5:48pm – The most surprising exit poll thus far is another positive for Trump—he appears to be slightly overperforming Mitt Romney among Latinos. That is shocking. HOWEVER, that number invovles mostly exit polls of voters in eastern states. Western states, with a large Latino population will come rolling in over the next few hours and can change that number. These exit polls are not "final" but are released on a rolling basis.
*5:42pm – Also on the positive side for Trump, contrary to some earlier discussion, some exit polls are suggesting the breakdown between white, black, Latino and, Asian voters may be the same as 2012.
*5:38pm – On the positive side for Trump, exit polls suggest the black vote in North Carolina may be down slightly. For Hillary to win the state, she needs that demographic strong.
*5:34pm – To further clarify, the networks do release some data from their exit polls before the polls close. That is why if you are watching network TV right now, you're seeing information about those questions. That information is very telling. For example, 54% of actual voters approve of President Obama. The President obviously supports Hillary, and there is a very good chance that the people who approve of Obama will have voted for Hillary. So that 54% is a great number for her. Remember, all of this data is now about actual voters, not "likely" voters or "registered" voters. So the information we get is far more important that the polls on these issues for the past few weeks.
*5:23pm – Just to clarfiy, Votecastr is reaching these estimates based on a complex demographic profile for every voter—party registration, age, race, gender,  income level, education level. That information is shown to be very closely-related to actual vote choice. They then match the actual voters throughout election day with their projected vote choice to get those estimates.
This is different from "exit polls" which, while asking for demographic information also ask "Who did you vote for?" The networks who conduct/commission these polls use that exit data when they make their projections–but only after the polls are closed. That is how they "call" a state even though almost no votes are officially counted yet. They very specifically do not release the exit poll data throughout the day. Votecastr intentionally releases it throughout the day.
*4:51pm – Votecastr, the live tracking experimental site, is watching 7 swing states. Here is what they think the vote percentages are right now. It is critical to remember that this type of prognostication has never been done before, so there is no way to know its past accuracy. Also, people are still voting, so that even if this is accurate, the election is not over.
*4:30pm – In Florida, the state most likely to decide the election, turnout may be the key. According to the most recent reporting, The largest counties, Miami Dade, Broward, Hillsborough have already passed turnout from 2012. In general, these are liberal bastions. But there is also talk of huge growth in traditionally GOP areas of the state, though the scope of that growth isn't clear.  Eeek.
*4:24pm – Wondering when we will actually have a final call on the Presidential race? In 2012, it became official basically at 11pm EST. That was sort of a middle of the road time. If things are razor tight, we won't know for awhile after that. But if FL, PA and other east coasts state are called early, then we may know sooner.
*4:15pm – The FiveThirtyEight election model finalized this morning. However, they just pointed out a few polls that came in afterward, earlier today. Trump up by 3 in Georgia and Hillary up by 3 in Florida.  Those number may turn out exactly right if the Votecastr and other gossip today hold true.
*3:54pm – It turns out that the "live" voter projects are affecting with the stock market. The more positive news throughout the day for Clinton, the higher the stock market. This has been a trend throughout the election as new polls come in. But its surprising to see it affect things on an hourly basis.
*3:44pm – Update on the Trump lawsuit case. The judge denied Trump's request that certain voting machines be "set aside, sequestered, and impounded."
*3:36pm – Remember that Votecastr experiment that is going on this year? They are using demographic exit poll results to see if they predicts the ultimate final tally. Right now, they essentially have Clinton up in every single swing state that is part of the project (FL, IA, NV, NH, OH, PA, and WI). But they are all incredibly close, with Clinton only having any breathing room in FL and WI).  Remember, the vote totals that they have are not actual votes–they are projected votes based on the demographics of actual voters.
*3:35pm – Here is another one from 2012. The Hispanic vote is even larger now…and Trump has not exactly positioned himself to earn that vote. They very well may be the difference in Florida and Arizona.
***FROM THE VAULT (2012 Live Blog) – "*10:02pm – Colorado exit polls suggest one of Romney big problems.  He is only getting 25% of the Latino vote.  In comparison, W. Bush got almost double that.  It's pretty simple: % of Hispanic vote going up every year, % of those voters going to Republicans is going down.  That is not good for winning elections.
*2:51pm – Every election is about "two different visions for the city/state/country." But this year represents the pinnacle of completely different ideas about where the country is headed and where it should head. Obviously we are seeing that in this presidential election, but it is also mirrored in so many down ballot races.
In my city of Winchester, there is a hotly contested mayoral race. Republicans have controlled the office basically forever, but the 3 term incumbent mayor is stepping down. The R nominee this year is a well-known, long-time resident and business owner . The Democratic nominee is a West Virginia native who is has not lived in Winchester for nearly as long—-oh, he's also gay and black. It will be fascinating to see how this local race–and so many similar ones across the country–play out tonight.
*2:37pm – This is becoming the most viral picture of this election day (H/T Drew Whiting):
When you trust your wife to vote for you, but not really. pic.twitter.com/tLprW7iXI3

— Master of None (@Gabbienain) November 8, 2016
*2:26pm – Turnout reports are "high" in virtually every state. Some seem more robust than others, however. Georgia in particular is speculated to be closing in on a turnout record. GA is almost always reliably Republican, but some polling numbers were very interesting in the past few weeks. It is unclear what the record turnout in that state means, but historically Democrats have always performed better with more voters.
*2:09pm – Critical reminder from a wise Twitter voice:
Election coverage has reached that point about 3 hours before the Super Bowl when Chris Berman interviews the hot-dog guy.

— Brian Lowry (@blowryontv) November 8, 2016
*2:00pm – We haven't yet mentioned the US House of Representative races. There are too many close ones to count, and its almost certain the that Republican Party will retain control. It would take an enormous Democratic wave to make that happen. The most interesting races, however, are those where Republican incumbents in moderate districts are trying to prevent Trump's unpopularity from taking them down. I happen to live in one of those districts with incumbent Barbara Comstock-R v. LuAnn Bennet-D. My gut says Comstock will eek it out, but its definitely not a lock.
The Cook Report has a nice grid here that outlines the status of each race and the current incumbent party. You'll notice that there are a lot more Toss Up races that are currently controlled by Republicans. That means that while they will retain control over all, they will probably lose seats.
*1:45pm – Not that this should influence your vote one way or another, but Hillary is a Cubs fan. She was born and raised in a Chicago suburb. These pictures are during Game 7 (notice the Cubbie blue jacket)
This slideshow requires JavaScript.
(Note: There has already been in-depth analysis of whether her Cub fandom is real. It is. Here's the story).
*1:19pm – We don't have much hard data on anything just yet. But the main takeaway right now from turnout projects and anecdotes is that Clinton is looking good in Florida…and Trump is doing surprisingly better than expected in Michigan.
*1:16pm – We will likely see more Trump lawsuits (or threats of lawsuits) throughout the day.  As a rule of thumb, the more you work to prevent people from voting, the less well things are going.
*1:13pm – Excellent/Gag-worthy analysis from the lovely Ann Coulter:
If only people with at least 4 grandparents born in America were voting, Trump would win in a 50-state landslide.

— Ann Coulter (@AnnCoulter) November 8, 2016
Let's just ignore the whole "America is a land of immigrants" fact.
*1:09pm –  The fun stuff begins.  The Trump campaign is filing its first lawsuit against the Clark County Registrar's Office in Nevada.  he claims that they stayed open 2 hours later than the scheduled time.  But, it was always made clear that if you were in line before the closing time, then you'd be given the chance to vote–even if it took 2 hours for everyone in line to vote.
Breaking: #Trump files Nevada voting lawsuit vs. Clark County Registrar, they allege, for keeping polls open "2 hours beyond..closing time"

— Jim Sciutto (@jimsciutto) November 8, 2016
*12:59pm – There is another interesting ballot initiative out of Maine. Today they will vote on whether to implement "ranked choice voting" in future elections. Basically, instead of voting for one candidate, you would rank them all. If no candidate gets a majority in the first go-round, the votes of the last place candidate are  reapportioned to whoever was ranked second on that ballot. That continues until one candidate has a majority. This is something that has long been championed by third party candidates as a way to give voters more options. Some also argue that it may make candidates less partisan, because they are also competing for "second place" votes.
(Side note: This is how the Oscars Best Picture contest works)
*12:28pm – FROM THE VAULT (2012 Live Blog) – "*7:07pm – EXIT POLLS: CNN suggest VA turnout was 39% Democrat and 33% Republican. If true, that is a great sign for Obama and Tim Kaine – the Senate candidate."
Look at him now. 4 years later and he may be hours away from being the Vice President-Elect of the United States.
*12:08pm – For those in Illinois, Eric Zorn has the best cheat sheet for the key races tonight. There is a Senate race that Tammy Duckworth is expected to win. A very tight Comptroller race with two very impressive candidates, Susana Mendoza and Leslie Munger. And there are many statehouse fights. In my hometown, incumbent Democrat Kate Cloonen is neck and neck with Lindsay Parkhurst. Up in the northern Suburbs, incumbent Republican Michael McAuliffe is in the fight of his career against my classmate at the University of Illinois, and Civic Leadership Program alum, Merry Marwig. For the most up-to-date information on IL races, be sure to check out the Capitol Fax.
*11:58am – This is the sort of talk I've heard a lot over these first few hours:
Possible surprises tonight: Michigan to Trump, Iowa to Clinton, Nevada closer than most think. https://t.co/ynfohRcfHc

— Joe Scarborough (@JoeNBC) November 8, 2016
*11:28am – BTW, the main takeaways from the Votecastr results so far is that: (1) Clinton may be doing well in Florida; (2) Colorado looks very close. Let's just keep that prediction in mind as we learn more.
*11:13am – Just to keep perspective, throughout the day I will be referencing lines from the 2012 election live blog. You'd be amazed how much things change in 4 years. For example, at 2:11pm I wrote: "*2:11 – The Results are IN!   The Chicago Bears just moved up two spots to #3 in ESPN's Power Rankings.  Whew.  We can all breath a sigh of relief now.  Back to the real world everyone. ;)"     
Not quite the same this time around (though they did just have a great win).
*10:50am – If you are staring at your computer all day (like me) and want as much data as possible, then the Votecastr tracker is now running. This is the brand new project that is attempting to offer information on who is winning throughout the day, starting now. CLICK HERE to go to the site. But keep everything in context: They are tracking the demographics of the actual voters, not the votes. I'll likely be sharing some of their most important data throughout the day. Don't panic if you see something that frightens you. This is basically an experiment that has never been tried, so we don't know how accurate it will turn out. It's essentially just more information to either thrill or terrify political junkies.
*10:44am – Reminder– even if you (or a friend/family member) haven't registered, you can still vote (and register on site) if you live in: Colorado, Connecticut, DC, Idaho, Illinois, Iowa, Maine, Minnesota, Montana, New Hampshire, Wisconsin, or Wyoming.  [BTW, more states should allow this.]
*10:35am – A friend's co-worker is wearing this pin today, signifying "shattering the glass ceiling" and "raising the bar." (H/T Kaylee Gamble).
*10:30am – Trump's larger than life "character" has overshadowed what would otherwise be the most talked about aspect of this election: The United States may elect its first ever female President. We cannot quantify the amount of sweat, tears, stress, worry, and toil of so many pioneers that created this possibility. Regardless of your politics or your vote, hopefully we can take time to celebrate that.
*10:21am – Here is the poll closing  map. No "hard" data will be released until then (starting at 7pm EST). However, we will be getting information  from the new  Votecastr project relatively shortly. Overall, a smattering of east coast states close at 7 or 7:30pm, most of the eastern half of country ends at 8pm, 9pm for middle of country, and then 10pm to 1am for the rest. If the race is a clear win for one candidate, we may know relatively soon. If its very tight, it'll be a late night.
*9:48am – Was does/did your precinct look like? Any commentary on your polling place?
*9:43am – It looks like most Americans will be dry today. Some research suggests that voter turnout can decrease significantly in areas where there is considerably rain (1% per inch of rain). But that won't be an issue for many this year. Good news.
*9:24am – Take all of these tweets, random anecdotal stuff with a gigantic grain of salt.  Most of us jump on news that we like and ignore the stuff we don't. But as the day goes on and there are trends like this one indicating huge turnout in Democratic ward, then it might (just might) mean something…
Update from a key Cleveland polling location! The highest D performing ward in the state per @apickrell. https://t.co/k7Q1z6Ny3y

— Harrell Kirstein (@HarrellKirstein) November 8, 2016
*9:14am – Here is a one minute video of the first votes of 2016 in Dixville Notch at midnight. Notice the botched hand-off on vote #1 —that about sums up this election…
*9:04am – The other major ballot initiative this year: The Death Penalty. California, Nebraska, and Oklahoma have capitol punishment issues on their ballot. 25% of all death row inmates are in those states–so its a huge deal.
California: Voters will choose between repealing completely, speeding up the process, or neither. Right now, polls show both losing, meaning the status quo would remain.
Oklahoma: The state executes more prisoners per capita than anywhere else. Their ballot initiative is the opposite of repeal—-they are deciding whether to change the state constitution to indicate that it does not constitute cruel and unusual punishment. In other words, this is a pro-active step by supporters to prevent a future court decision that bans executions. Wow.
Nebraska: The state repealed the death penalty last year. But supporter of capitol punishment, led by the Governor Pete Ricketts (of the Cubs Ricketts family), got a referendum on the ballot to restore the death penalty. There has been all kinds of controversy on the language on the initiative, because a "No" vote essentially means returning executions to the state. There is no polling on the issue.
*8:49am – Do you hate all politicians and don't really care who wins? If so, maybe you should focus your attention on some of the ballot initiatives across the country. Most notably, five states will vote today on whether or not to legalize recreational use of marijuana: California, Massachusetts, Nevada, Maine, and Arizona. The latest polls suggest clear wins in CA and MA. It is closer in NV and ME, but the pass vote is slightly ahead. It is a dead heat in AZ.  Even if you don't live in those states, if all 5 pass, it will send a clear message on where things are going on that issue across the country.
*8:36am –For the record, today is utterly gorgeous here in Northern Virginia. The pictures don't do it justice, but there is a swath of oranges, reds, and yellows against a bright blue sky behind my personal election headquarters. God is smiling down on Election Day 2016…
*8:21am– Now is a good time to shift gears, because there are many critical elections besides the Presidency. Most notably, the US Senate is going to be a nailbiter, as several races are toss ups. The latest models have the chance of the Democrats taking control at about 50.7%. Barely better than a coin flip. The closest races according to current polling:
New Hampshire: Democrat Maggie

Hassan

and Kelly

Ayotte

are nearly tied

Nevada: Democrat Catherine Cortez

Masto

is slightly ahead of Joe

Heck

Pennsylvania: Democrat Katie

McGinty

is slightly ahead of Pat

Toomey

Missouri: Republican Roy

Blunt

is slightly ahead of Jason

Kander

North Carolina: Republican Richard

Burr

is ahead of Deborah

Ross

Indiana: Republican Todd

Young

has pulled ahead of Evan

Bayh
You'll notice that many of these close Senate races are in the states that are closest at the Presidential level. Swing states are swing states–and Senate candidates run statewide. It's always interesting to see if the lower ballot candidates out-perform their Presidential nominee.  For example, how many people in North Carolina will vote for Democrat Hillary, but then pick the Republican Burr for Senate?
*8:07am – The swing state list has shifted over the course of the campaign. My state, Virginia, was once on that list. But recent polling suggests that Hillary should win comfortably here. According to FiveThirtyEight, the three closest states right now are: Florida, North Carolina, and Nevada. Trump needs all of them.
*8:02am – Another Florida update/reminder. The early voting numbers suggest that Clinton may already be up by 92,000 votes. If that holds, its an impressive lead compared to the Dem v. Rep early voting breakdown in the past. It's a positive early sign for her in the state. Realistically, if Trump can't win Florida, he can't win the election.
*7:47am – This is how the two sides in this election can come together tomorrow morning. Sending "lost dogs" to political rallies with people wearing shirts from the opposing candidate. Impressive political ad from Pedigree:
*7:36am – Here are the latest (perhaps last) poll releases. At a very cursory glance, a rough summary shows:  Trump continues lead in Ohio? North Carolina and Pennsylvania are close. Surprisingly, Clinton has a chance, maybe not a huge chance, of winning reliably Republican states like Arizona and Georgia. (NOTE: FiveThirtyEight collected 4,207 state and national polls thus far).
*7:20am – Want the best, "insider" information about how the swing states are really looking? The best bet is to follow state reporters (not the big networks or large papers). These folks know the nitty gritty of the state better than anyone and have gut feelings that are far more likely to be accurate. For example, here's an argument from one who thinks Hillary will win, in a squeaker, in Florida.
*7:15am – 
*7:09am – Thinking about taking a picture of your ballot? Make sure that you don't commit a felony. Here is a state-by-state list indicating whether it is legal or illegal to take photos in the booth or polling place.
For example, Virginia = LEGAL — Illinois = ILLEGAL.   
*7:00am – In year's past, we had to wait until late afternoon to get any real information on Election Day trends. And we never really got any sense of anything until the polls actually started to close.  But as in so many other ways, THIS YEAR IS DIFFERENT. There is a project managed by "Votecastr," Slate, and Vice  that will use a variety of tools in a first-ever attempt to track the election minute-by-minute on Election Day.
Here's the gist:
"It's crucial to remember these projections are being made in real time. Even if we were to assume the VoteCastr models are perfect—and we won't—they can't tell us who will win a particular state, only who is winning that state at a specific moment in time and who might win if current trends continue. When it comes to who might win, the emphasis should be on might. There are too many unknowns for us to be able say with confidence that what we think is happening in the present will continue to happen in the future. It's entirely possible, for instance, that Trump voters will be more likely to cast their ballots in the morning and that Clinton voters will be more likely to cast theirs in the evening—or vice versa."
*6:55am – Here is the latest FiveThirtyEight election map forecast. This is Nate Silver's site, arguably the most respected of all forecasters.
*6:45am – Per tradition, a few tiny New Hampshire towns vote immediately at midnight to be the first votes cast and reported on in the country. In Dixville Notch Hillary won 4-2. In Hart's Location, Hillary also won 17-14 (Romney won there). However, a third New Hampshire city also did the midnight voting, Millsfield, where Trump won handily, 16-4. Overall, that means that Trump currently has a 32-35 vote lead over Clinton.
*6:30am – The line in my downtown Winchester, VA polling place was already significant when doors opened. That is my first sliver of evidence that turnout may be pretty darn high this time around—that was expected. Though, we also have a very contested mayoral race here. Early voting lines throughout the week were also enormous across the country.
*5:50am – Democracy –  Time for me to vote. As in the primaries, myself, Kyle, and our neighbor Laura Robb will be at our polling place when the doors open. We will all cast our votes, and then Laura and I will walk home nervously pondering what the day will hold. Side note: Laura is an incredibly accomplished educator author for Scholastic. 
*5:30am – Good morning! Merry Christmas political junkies–may your preferred candidates win (unless they are candidates that I do not want to win…in that case, may they lose). Just kidding.